It's official: Ford and Volkswagen are teaming up to build commercial, electric, and autonomous vehicles in the coming years.
Ford and Volkswagen's talks about inking a partnership were first made public in July 2019. Now that the agreement has been signed, the two companies have revealed that their plans include the production of a medium pickup, a city delivery van, a one-ton cargo van, and an electric vehicle.
The medium pickup will be engineered and built by Ford and will be sold by Volkswagen as the Amarok by 2022. The city delivery van will be developed and built by Volkswagen Commercial Vehicles based on the latest Caddy, while the cargo van will be produced by Ford. These vehicles aim to strengthen both carmakers' commercial vehicle business by 2021.
Meanwhile, a Ford EV will be produced for Europe by 2023, and this will be built on the brand's zero-emission capabilities together with Volkswagen's modular electric drive (MEB) tool kit. Ford says it could deliver 600,000 EVs atop this MEB architecture over several years starting in 2023.
Ultimately, by the end of all three models' life cycles, the alliance expects to have produced a combined total of 8 million units.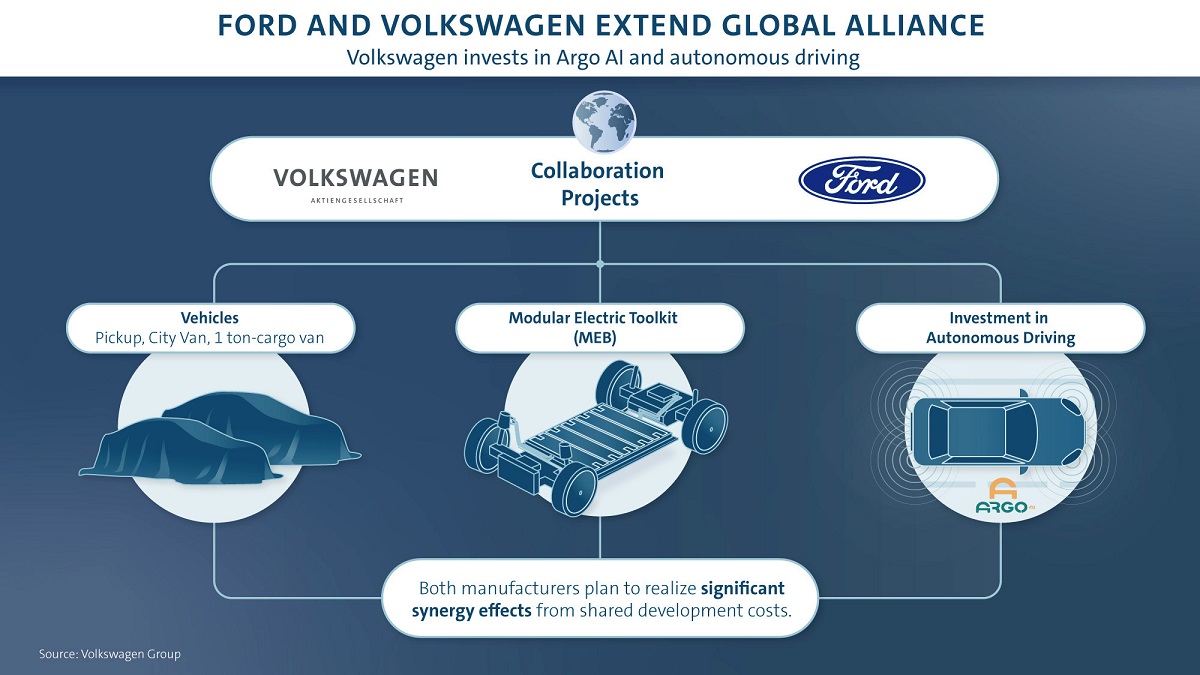 ADVERTISEMENT - CONTINUE READING BELOW ↓
"In light of the Covid 19 pandemic and its impacts on the global economy, more than ever it is vital to set up resilient alliances between strong companies," said Volkswagen Group CEO Dr. Herbert Diess. "This collaboration will efficiently drive down development costs, allowing broader global distribution of electric and commercial vehicles, and enhance the positions of both companies."
"This alliance comes at a time of tremendous enthusiasm about the intersection of increasingly intelligent, connected vehicles in an ever-smarter world," said Ford CEO Jim Hackett. "This creates a huge opportunity to innovate and solve many of the world's transportation challenges and deliver extraordinary benefits to customers—even as companies need to be selective about how they use their cash."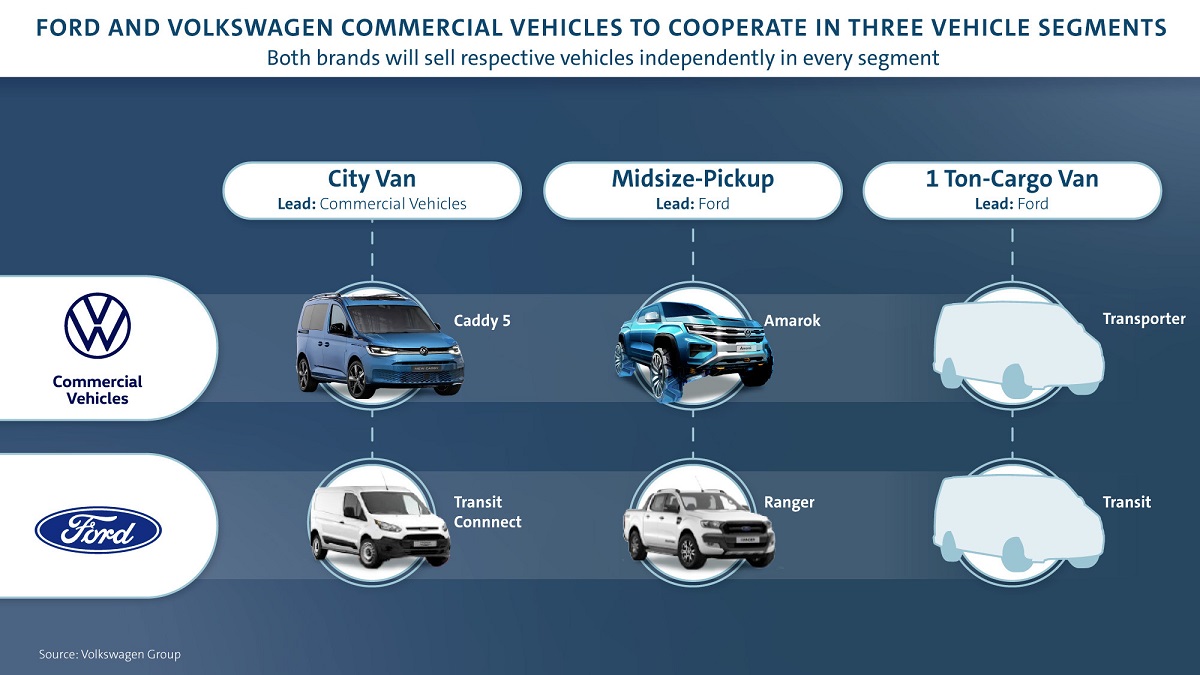 Ford chief operating officer Jim Farley adds: "Separately, Ford will add battery-electric versions of Transit and F-150 in the next 24 months for commercial customers who increasingly need zero emissions and the power of connectivity, data, and artificial intelligence."
In addition, the two companies will also utilize the self-driving technologies of Argo AI to produce autonomous vehicles in the future. Argo AI is a Pittsburgh-based company which both Ford and Volkswagen recently invested in.
While this alliance does not include cross-ownership between Ford and Volkswagen, industry giants collaborating to build automobiles is certainly something to be excited about. What do you think?