"The Department of Transportation (DOTr) and the Metropolitan Manila Development Authority (MMDA) announced this week that these traffic-flow adjustments would be made at the corners of Commonwealth Avenue and North Avenue along the Elliptical Road, to make way for the ongoing MRT-7 construction.
"At Elliptical Road corner Commonwealth Avenue, the three curved lanes bound for North Avenue and Visayas Avenue were moved toward the inner lanes. The change took effect on July 28.
"Meanwhile, the adjustments at Elliptical Road corner North Avenue saw the passable lanes moved further inwards as the construction of the MRT-7 fence is pushed back. These changes were made on July 31."
Check out the photos below for a better look: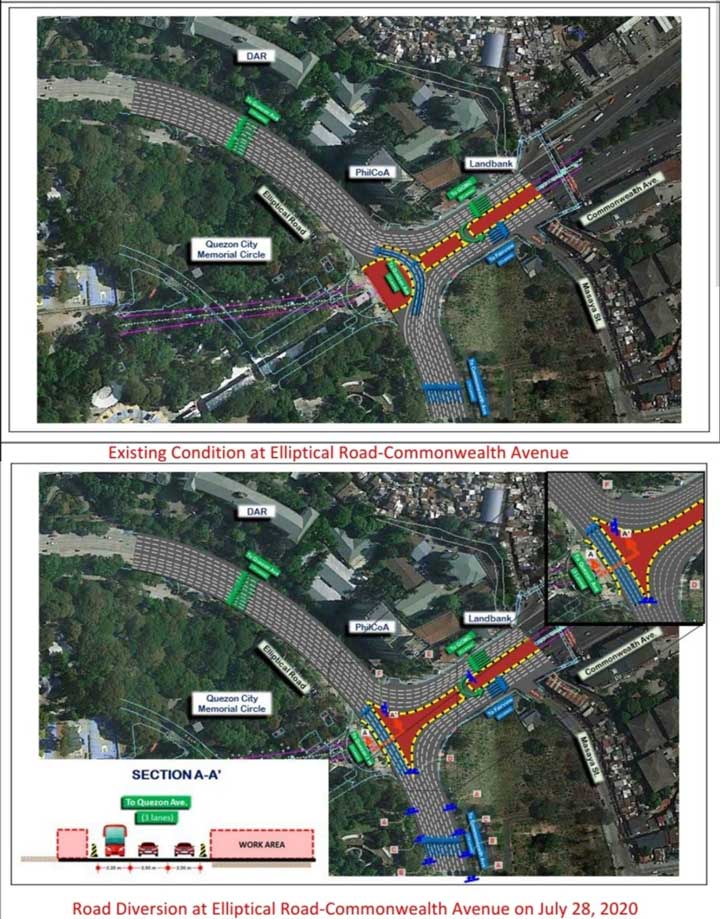 Continue reading below ↓
Recommended Videos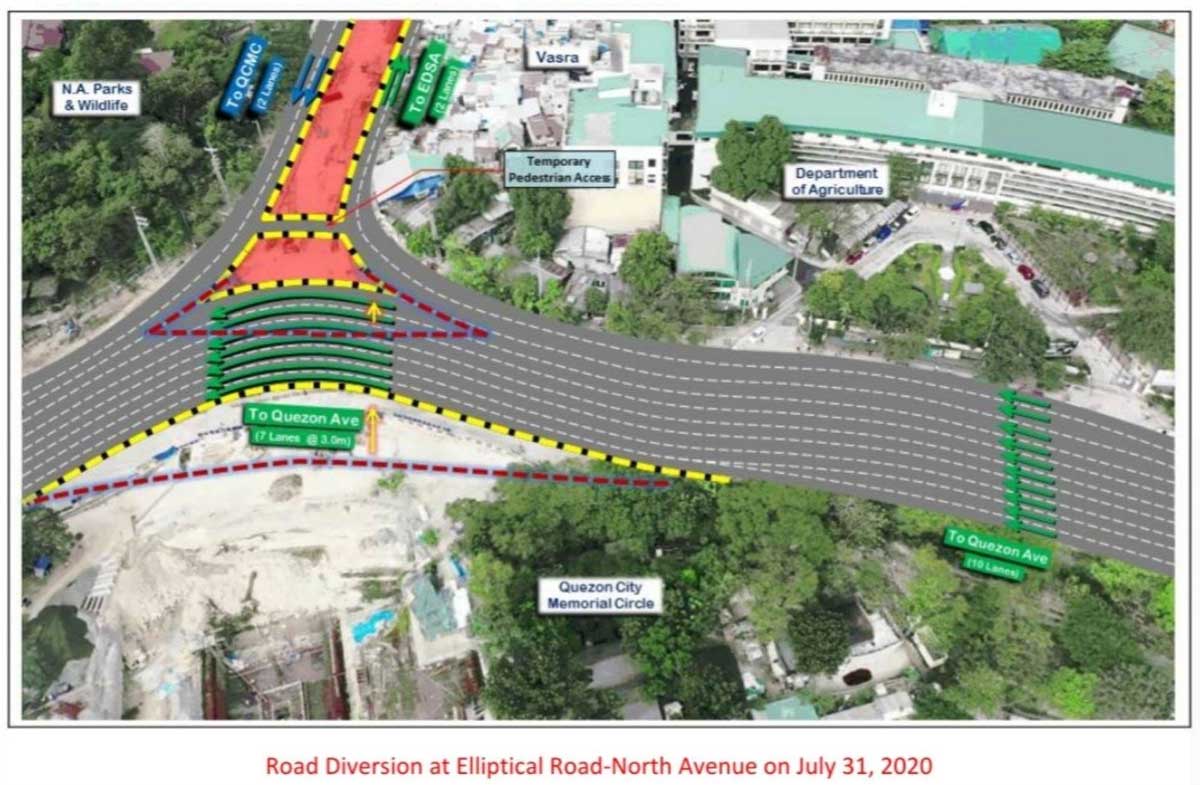 "The Department of Public Works and Highways (DPWH) has stressed that the past few months of hampered construction works due to the COVID-19 pandemic will not push back the completion dates of the Estrella-Pantaleon and Binondo-Intramuros bridge projects.
"In a statement, DPWH head Mark Villar said that the two projects are 'right on schedule,' with the new Estrella-Pantaleon and Binondo-Intramuros bridges crossing the Pasig River scheduled to open in December 2020 and March 2021, respectively.
"'Although we have other urgent projects during this time of pandemic, we want to ensure everyone that these bridge projects are being rushed for completion to serve the public,' Unified Project Management Office undersecretary Emil Sadain said.
The Estrella-Pantaleon Bridge, which is currently undergoing pouring of its foundations, is 56% complete as of this writing. The Binondo-Intramuros bridge, meanwhile, is 36% complete. The DPWH is now working on the down ramp of the Binondo side, with the bridge's main steel frame expected to be installed in September 2020, the agency adds."
"In a Facebook post, the DOTr shared that it has ordered 36,000 additional concrete barriers to placed on EDSA. Agency head Arthur Tugade has also ordered the speedy delivery and implementation of said barriers, and the DOTr says this is for the safety and security of commuters using the EDSA Busway.
"'Upang mas maging ligtas at secure ang mga commuter gamit ang EDSA Busway, ipinag-utos ni DOTr Secretary Arthur Tugade na pabilisin ang delivery at pagkakabit ng mga concrete barriers.
'Patuloy namang pinaaalala ng DOTr sa ating mga motorista na tanging mga bus at emergency vehicles lamang ang maaaring bumaybay sa EDSA Busway. Ipinagbabawal din dito ang ang mga pasaway na bus driver na kaskasero kung magmaneho.'
"On July 24, a bus using the inner lane was caught on video speeding and knocking down one of the EDSA Busway's concrete barriers as it passed by. The DOTr and the Land Transportation Franchising and Regulatory Board (LTFRB) has since issued a show-cause order to the bus driver and its operator."
"According to a GMA News Online report, the MMDA plans to replace some of the EDSA Busway's concrete barriers with less obtrusive (and probably less dangerous) bollards instead. MMDA general manager Jojo Garcia shared the plan in an interview with Dobol B sa News TV earlier today, saying it will be implemented in the coming weeks.
"'In the next few weeks po, lalagyan po natin yan yung bollards na mas manipis po yun,' the official said during the interview. Garcia clarified, however, that the heavy concrete barriers will still be placed near stops, though he also said that they will be moved closer to one another.
"'Yun pong ating loading and unloading base—200 meters before, 1,000 meters after—lalagyan rin natin ng concrete barriers yan na dikit-dikit,' Garcia explained.
"According to the official, the new bollards will be provided by the private sector. He also maintained that recent accidents on EDSA involving the existing concrete barriers, which have gone viral online, were due to driving behavior, and that only a small percentage of vehicles using the lane have experienced any mishaps."
"According to data collected by Summit Outdoor Media's Vehicle Recognition Devices and Dashboard, a lot of people have been driving out ever since Metro Manila's enhanced community quarantine (ECQ) lapsed. As in a lot.
"Data recorded right before the pandemic kicked into full gear shows a total of 169,761 vehicles passed by Summit billboards on EDSA and C5 daily from March 1 to 14, 2020. From March 15 to May 15 during ECQ, this number dropped drastically to just 55, 706 vehicles. The lockdown succeeded in keeping motorists at home.
"As soon as authorities loosened up and shifted Metro Manila to modified enhanced community quarantine (MECQ), however, the number of cars outside began to spike. From May 16 to 31, the same billboards recorded 105,437 vehicles plying EDSA and C5 daily. And from June 1 to 30, this figure grew further to 139,289 vehicles.
"'Contrary to most forecasts saying fewer people will be out and about, traffic in the metro has actually increased post-ECQ,' Summit Outdoor Media says. "As of June 22, our collected vehicle data from various parts of the metro show that there's an astounding 162% increase in daily vehicle traffic from the numbers during the ECQ. This is actually greater than the traffic count pre-ECQ and can go even go higher as traffic increases by 39% day by day.'"
"In Valenzuela City, one Metrolink bus has been fined a whopping P462,000 for overloading and not adhering to social-distancing protocols during trips. Mayor Rex Gatchalian posted a photo of the violation receipt on Facebook.
"'Metrolink bus just paid their fine. So mga bus operators out there, I suggest you toe the line or you [will] suffer the same fate,' Gatchalian warned.
"The bus operator paid the fine, sanctioned the erring drivers and conductors, and, what's more, got creative in ensuring its vehicles would adhere to social-distancing regulations during trips by removing the option of overloading completely. How did the company do this? Well, have a look for yourself.
"Gatchalian added that he would be getting in touch with another violator, this time a public jeepney, reported by a constituent. The mayor had encouraged Valenzuela City residents to take photos of and report incidents of overloading and non-adherence to safety practices."
"Commuters will have more means of getting around during general community quarantine after regulators gave 1,943 public utility jeepneys the go-ahead to ply 17 new routes in Metro Manila. For a complete list of the routes, click here.
"Before the go signal from the LTFRB, those who are allowed to work outside their homes had to choose between trains and buses, both working at limited capacities.
"The jeeps can operate at 50% capacity and comply with safety protocols such as checking of body temperatures and wearing masks and gloves."
"In a Facebook post, the Land Transportation Office broke down every memorandum circular (MC) it has issued so far pertaining to the validity of motor vehicle registration. This includes a May 9 MC extending the validity or vehicle registrations that expired on March 1, as well as a June 24 MC extending the validity for vehicles scheduled for renewal from June to October.
"On top of that, registration for vehicles with plate numbers ending in 6 and those outside the National Capital Region (NCR), Laguna, Cebu, and Region III scheduled for renewal in June now have until July 31 to do so. Vehicles ending in 6 within NCR, Laguna, Cebu, and Region III, meanwhile, can renew their registration until September 3, 2020.
"For plate numbers ending in 7, 8, 9, and 0, the new deadlines for renewal are the following:
Plate numbers ending in 7 – July 31 deadline extended to August 31
Plate numbers ending in 8 – August deadline extended to September 30
Plate numbers ending in 9 – September 30 deadline extended to October 31
Plate numbers ending in 0 – October 31 deadline extended to November 30
"The LTO says no penalties and charges will be applied for transactions under the agency's revised registration renewal schedule."
"Grab Philippines launched the GrabProtect program a few months back as part of its efforts to ensure the safety of its driver- and delivery-partners during this COVID-19 pandemic. The company has recently raised its safety and hygiene standards as well for both its partners and customers to help prevent further spread of the virus.
"Now, in line with this new initiative, Grab Philippines has partnered with the National Task Force Against COVID-19 (NTF) and the Bases Conversion and Development Authority (BCDA) to launch an RT-PCR testing site for all its partner drivers and riders.
"The testing site is located at the Quezon City Memorial Circle and is already operational as of July 30, 2020. All Grab drivers and riders in Metro Manila are eligible for testing, free of charge. This is a two-month initiative, according to Grab Philippines' statement.
"If you're a driver- or rider-partner yourself and are wondering how to avail of this free testing, then take note: Based on the comments on Grab Philippines' Facebook post, drivers and riders will supposedly receive emails and in-app notifications containing the important details."
"The House Committee on Transportation has urged the Inter-Agency Task Force (IATF) for the Management of Emerging Infectious Diseases to allow motorcycle-taxi companies to resume their operations, provided they meet certain conditions.
"During the virtual hearing held on Thursday, July 30, committee chairman Representative Edgar Sarmiento and the other members of the body took turns convincing the IATF to allow Angkas, JoyRide, and Move It to return to the streets on the condition that their riders will comply with government-imposed health protocols. 'These [are] extraordinary times that need extraordinary measures,' Sarmiento said.
"Representative Precious Hipolito-Castelo said that although Congress has yet to evaluate the report submitted by the technical working group (TWG) formed by the Department of Transportation (DOTr) to monitor and analyze the motorcycle-taxi pilot runs that were conducted from mid-2019 until right before the COVID-19 quarantine, there is an urgent need for these ride-hailing services to resume operations due to the serious public-transport shortage we are currently facing.
"Castelo filed a motion asking the IATF and the National Task Force (NTF) against COVID-19 to allow the resumption of motorcycle-taxi operations, and also separately asked the bodies to look into allowing tricycles to ferry one additional passenger to help double capacity and cut costs. She pointed out the irony of the IATF's decision to allow backriding among couples and domestic partners, but to prohibit the operation of motorcycle taxis in order to enforce social distancing.
"Meanwhile, Angkas chief transport advocate George Royeca assured the government of his company's strict compliance with the required COVID-19 health protocols, and commended the House Committee on Transportation for giving hope to 30,000 rider-partners who have been deprived of their livelihood since March.
"Royeca added that they are amenable to Congress' suggestion for Angkas passengers to purchase their own helmet for hygienic purposes. The House Committee even required passengers to acquire helmets with a safety and quality compliance certification issued by the Department of Trade (DTI) for their personal use."