"Metro Manila mayors have agreed to synchronize curfew hours, from 10pm to 5am, for two weeks starting Monday, March 15, to help arrest a surge in coronavirus infections, the Metropolitan Manila Development Authority (MMDA) has announced.
"Authorities have also locked down some barangays and kept condominiums under tight watch as daily cases have surged to levels not seen since October 2020.
"The chairman of the MMDA, Benhur Abalos, announced the uniform curfew, citing the consensus of Metro Manila mayors during a meeting late Thursday, March 11. 'Ginawa ito para hindi na malito ang tao, para magkaisa na lang,' Abalos told reporters.
"The Department of the Interior and Local Government previously called on mayors of the capital region to implement a uniform curfew policy to make public compliance easier."
"Last month, Malacañang announced that motorists would no longer be required to undergo testing at private motor vehicle inspection centers (PMVIC) and would be able to fulfill their Land Transportation Office (LTO) requirements by visiting private emission testing centers (PETC) instead. PMVICs also agreed to lower their testing fees.
"The announcement was pretty straightforward, but a memorandum circular recently released by the Department of Transportation (DOTr) has caused some confusion online. According to DOTr Memorandum Circular No. MC-SC-2021-01, 'visual inspection of the roadworthiness/safety features of a motor vehicle shall be mandatory' along with the usual emissions test from a certified PETC or PMVIC.
Continue reading below ↓
Recommended Videos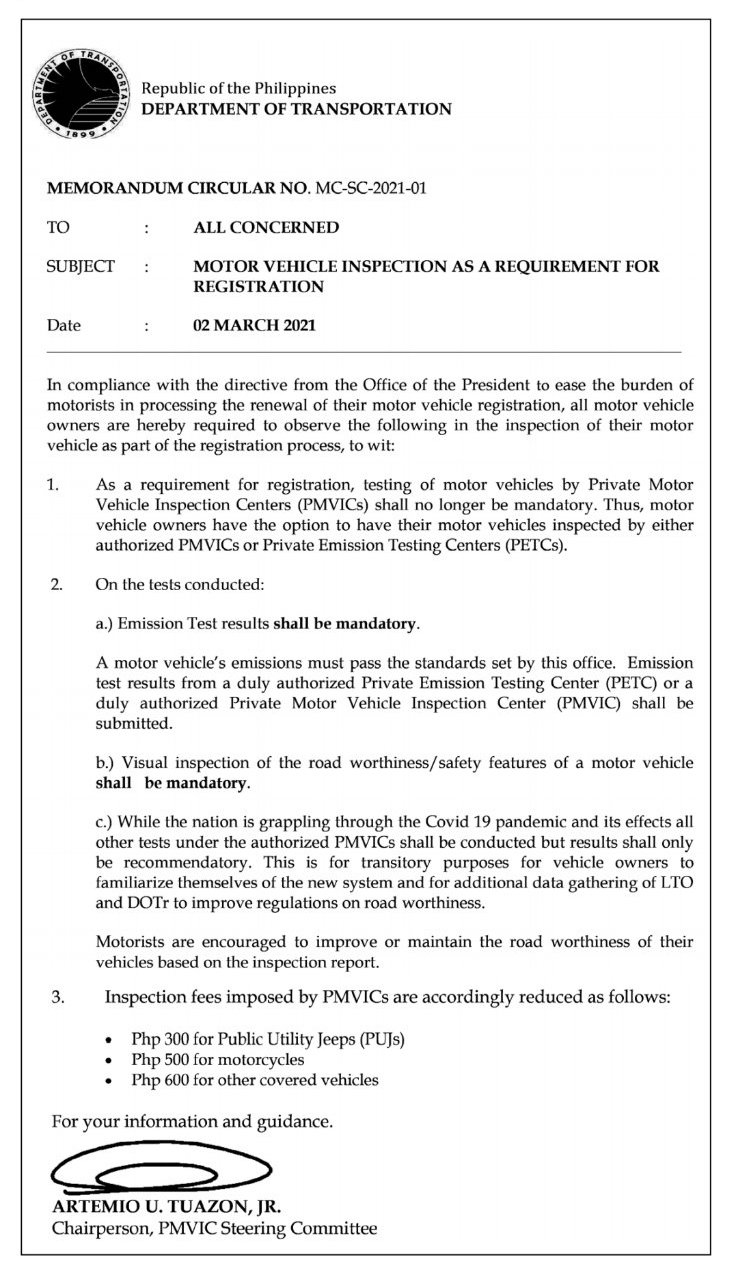 "We reached out to DOTr assistant secretary Goddes Hope Libiran, and according to her, this inspection can be conducted at an LTO Motor Vehicle Inspection System (MVIS) facility, too, and that this procedure has been in place long before PMVICs came into play.
"'Allow me, please, to clarify na matagal nang may visual inspection. Even prior to the establishment of PMVICs. Nagkaroon kasi ng kalituhan yung iba noon because they thought MVIS and PMVIC are the same. They are not. MVIS is the system, PMVIC is the private facility,' Libiran explained, adding that some people may have mistakenly believed the MVIS visual inspection is no longer required.
"'Ang dating process kasi, once makapasa ka sa PETC, you bring your certificate with you to the LTO MVIS facility. Once you go to the facility, your vehicle will be subjected to visual inspection. Kung pasado both sa emission testing and visual inspection, then okay. Meron din namang dumidiretso sa LTO MVIS facility to subject their vehicles to both emission testing and visual inspection.'"
"The DOTr has issued a memorandum order that reinstates the daily limit on the number of vehicles that are allowed to undergo testing at private emission testing centers (PETCs).
"'In the exigency and best interest of the public, and with the imposition of less stringent community quarantine measures and the gradual resumption of operations of the LTO and emission testing sites, Section 6.6 of the Department Order 2012-10 is reinstated effectively immediately,' according to the document signed by DOTr undersecretary Atty. Reinier Paul Yebra.
"Section 6 of DO 2012-10 (click here for the full document) limits the number of vehicles that may undergo testing at PETCs as follows: 1) thirty-two (32) tests per day for diesel vehicles based on 15-minute test duration; and, 2) forty-eight (48) tests per day for gasoline vehicles based on 10-minute test duration.
"On July 6, 2020, the above-mentioned limits were lifted to reduce the testing backlog at PETCs—and, subsequently, the vehicle registration backlog at LTO field offices—that had resulted from the imposition of COVID-19 lockdowns and strict health protocols.
"But with the gradual return of normal operations at LTO field offices, the testing limit at PETCs is now being reinstated—meaning each facility may test a maximum of 32 diesel vehicles and 48 gasoline vehicles, for a total of 80 vehicles. The DOTr has also instructed PETCs to revert to their original business hours of 7am to 5pm, Mondays to Fridays.
"According to our sources, during the period that PETC testing limits were lifted, each facility tested, on average, about 150 to 180 units per day.
"Currently, there are still many PETCs dealing with long queues. Some motorists argue that this latest move by the government is being used as an opportunity to convince vehicle owners to avail themselves of the services of PMVICs instead."
"The MMDA has released a list of the capital's local government units (LGU) and their corresponding penalties for failing to wear a mask and not adhering to social-distancing measures. Look:
| | | | |
| --- | --- | --- | --- |
| LGU | First offense | Second offense | Third offense |
| Pasay City | P1,000 | P2,000 or 15-day detention | P5,000 or one-month imprisonment |
| Pasig City | P500 and eight hours of community service | P1,000 and 12 hours of community service | P3,000 to P5,000 and 16 to 24 hours of community service |
| Pateros | P2,000 or 12 hours detention | N/A | N/A |
| Quezon City | P300 | P500 | P1,000 and/or one month of imprisonment |
| San Juan City | P3,000 | P5,000 and/or up to three months of imprisonment | N/A |
| Taguig City | P1,000 or four hours of community service | N/A | N/A |
| Valenzuela City | P1,000 | P3,000 | P5,000 |
| Caloocan City | Reprimand | P5,000 and/or one month of imprisonment | N/A |
| Las Piñas CIty | P1,000 | N/A | N/A |
| Makati City | P1,000 | P3,000 | P5,000 and/or up to six months of imprisonment |
| Mandaluyong City | P100 | P200 | P300 to P500 and/or one week of imprisonment |
| Manila City | P1,000 | P2,000 | P5,000 or one-month imprisonment |
| Marikina City | P1,000 or eight hours of community service | N/A | N/A |
| Muntinlupa City | Three hours of community service | Offender shall be monitored and strictly prohibited from leaving his/her residence except for emergency situations | N/A |
| Navotas City | P250 and eight hours of community service | P500 and 16 hours of community service | P750 and 24 hours of community service |
| Parañaque City | P1000 or six hours of detention | P2,000 or nine hours of detention | P3,000 or 12 hours of detention |
"In case you've forgotten forgot, the wearing of face masks is required inside vehicles, too, unless you're sitting alone in one."
"With fewer vehicles on the roads due to COVID-19 lockdown measures and a temporary nationwide public transportation ban, the MMARAS recorded a total of 65,032 accidents in 2020. That's a drop of 46.6% compared with 2019's 121,771 total recorded accidents.
"Metro Manila averaged 178 road-crash incidents per day last year. Broken down, 50,230 of those cases resulted in damage to property, 337 in death, and 14,465 in non-fatal injury.
"Partly due to its sheer size, Quezon City is Metro Manila's top city by far when it came to road crashes with 22,494 cases. Manila comes in at a distant second with a total of 6,655 incidents, and rounding out the top three is Makati City with 4,508 incidents. Pateros recorded the fewest number of accidents last year with just 115.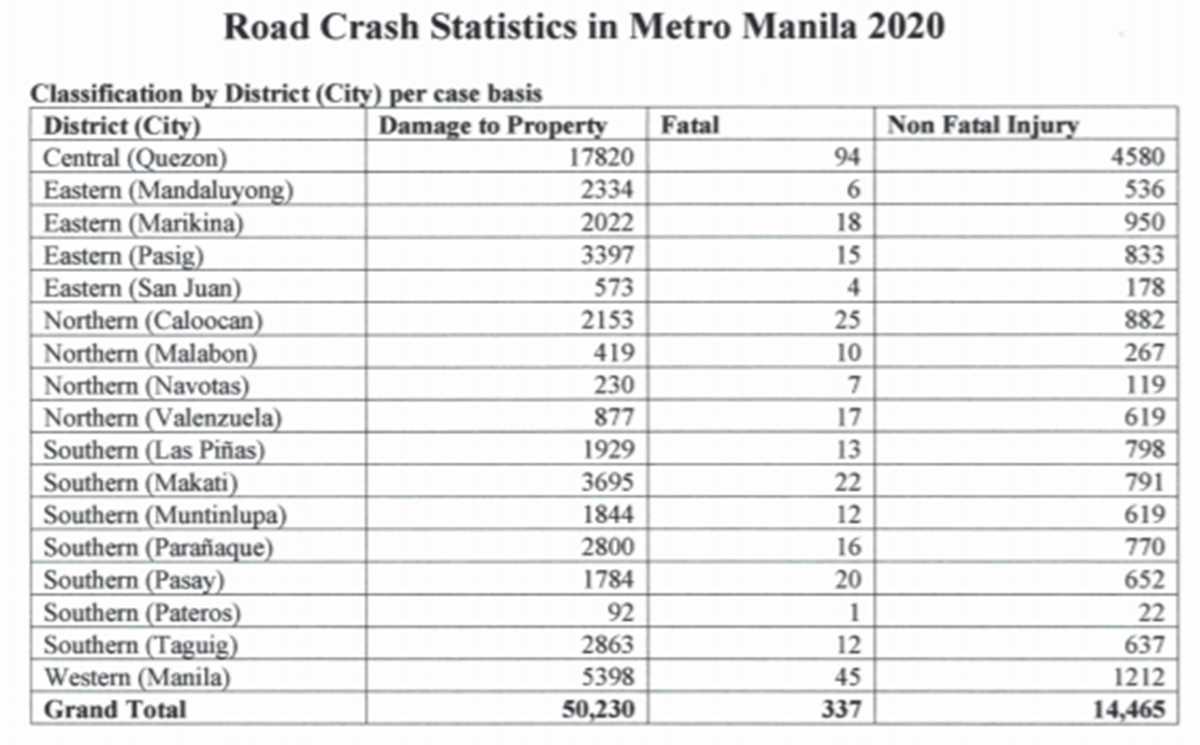 "The top month in terms of accidents in 2020 is February, with a total of 9,315 incidents. This is followed by January and October with 7,283 and 6,285 cases, respectively.
Unsurprisingly, the lowest accident total was recorded in April 2020 during the height of the country's COVID-19 lockdown. Only 1,535 incidents were recorded during this month."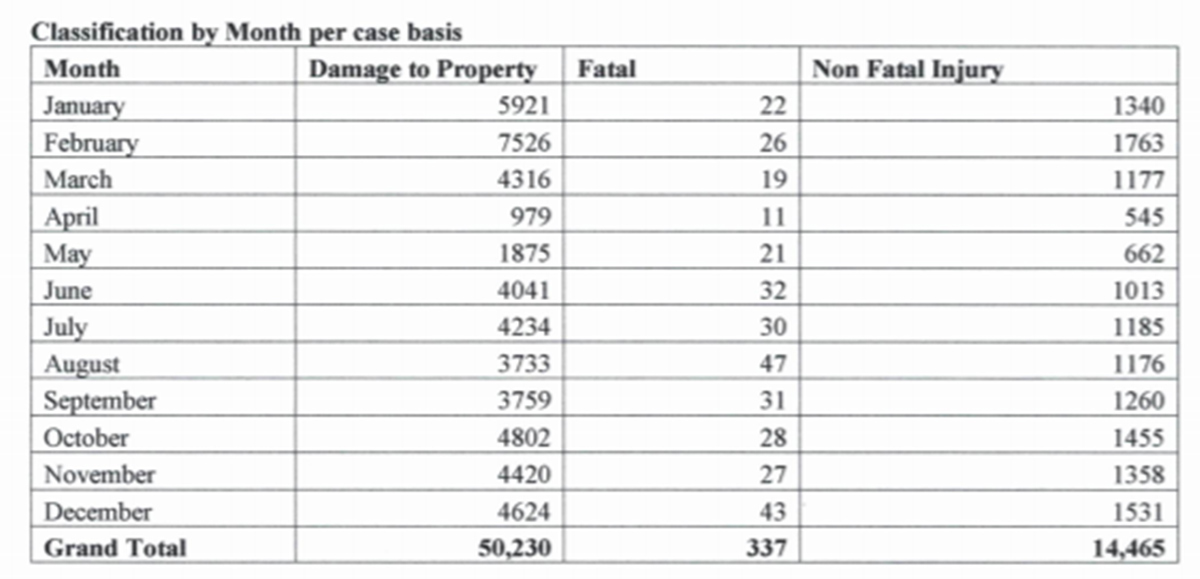 "According to the 2020 MMARAS report, the period from 7pm to 12am recorded the highest number of fatal traffic incidents last year.
"A total of 65,032 road crashes were recorded in 2020. Of 337 traffic incidents that ended with fatalities, 116 happened between 7pm and 12am, with the deadliest hour of the entire day being 11pm to 12am with 30 fatal crashes. Those hours also saw 3,158 out of 14,465 incidents that resulted in non-fatal injuries."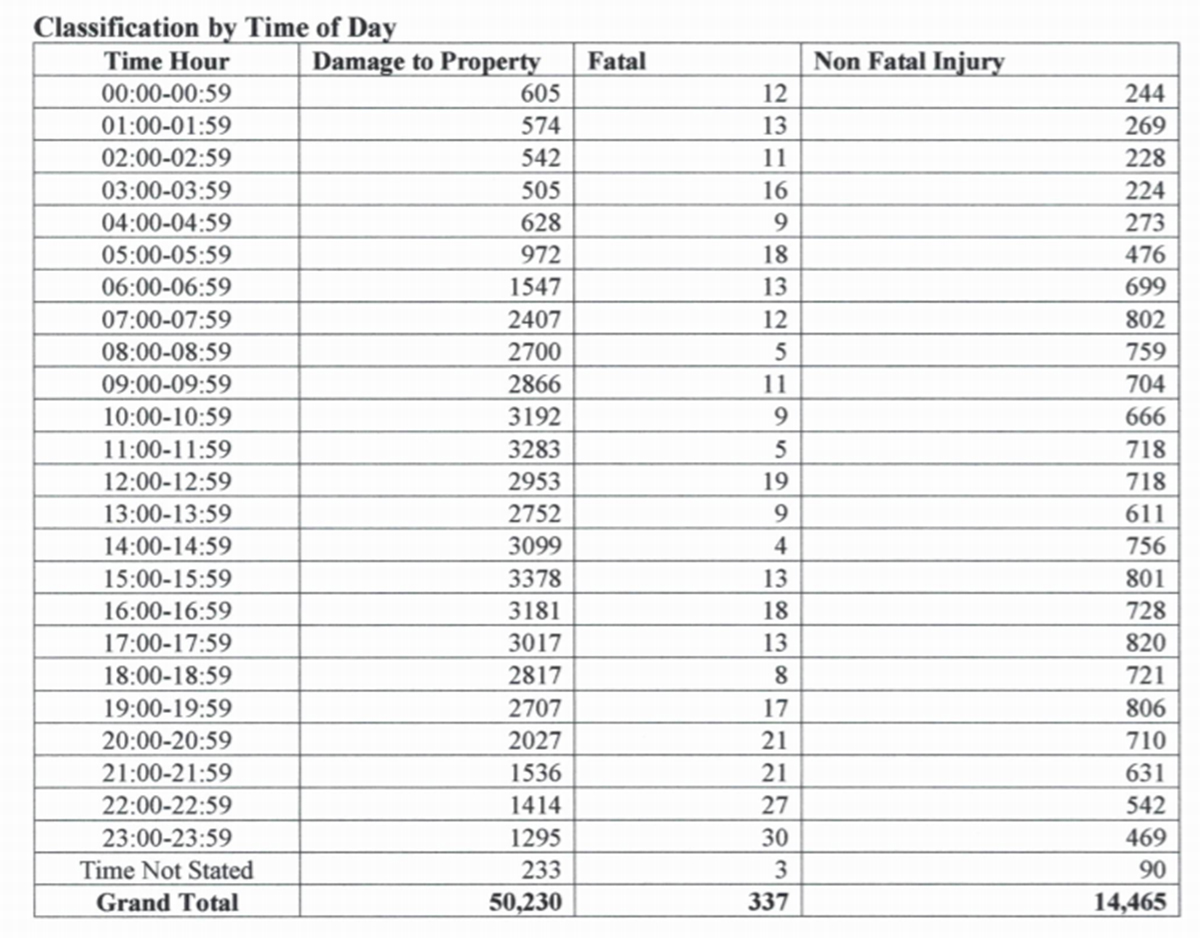 "In contrast, only a total of 83 fatal incidents occurred during those hours in 2019. Also worth noting is that while there was a slight dip in fatal road incidents in 2020 (337) compared with 2019 (372), the percentage of deadly crashes actually rose when you take into account the overall number of recorded incidents.
"In 2019, there was a grand total of 121,771 recorded incidents, including 372 fatal incidents. That's 0.3% of recorded crashes ending in death. This year, the total of 65,032 crashes includes 337 fatal incidents. That's 0.5%, meaning fewer cars out due to COVID-19 lockdown restrictions didn't necessarily translate into safer roads."
"The number of motorcycle-related fatalities in Metro Manila increased slightly in 2020, despite the presence of government checkpoints at the height of the COVID-19 pandemic, as more people shifted to two-wheelers due to limited public-transport availability and physical-distancing requirements.
"Based on the 2020 MMARAS report, the number of fatal accidents involving motorcycles hit 229 last year, compared with 221 in 2019—a 3.5% increase. The total number of motorcycle-related road crashes last year was 22,080, versus 31,279 in 2019, representing a 29.4% decrease.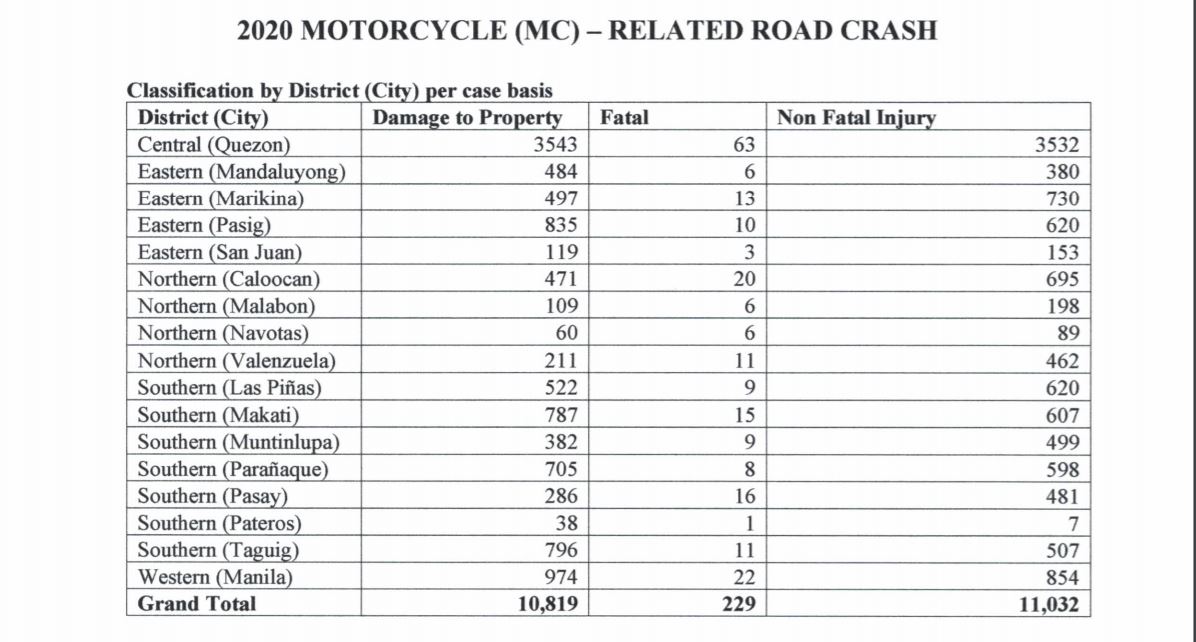 "As regards accidents that caused non-fatal injuries, the report showed a 24.9% decrease—11,032 in 2020 versus 14,691 in 2019.
"The actual number of persons involved in motorcycle-related accidents are as follows:
198 riders killed and 10,226 injured
17 passengers killed and 1,464 injured
21 pedestrians killed and 1,078 injured
"In all, 13,004 people were involved in these accidents, representing an average of 36 per day. The corresponding figures for 2019 are 14,553 people in total and an average of 40 per day.
"According to the report, the highest number of deaths from motorcycle accidents occurred from 8pm to 9pm and from 10pm to 11pm. During both time periods, 17 fatalities were recorded. Side swipes caused the most damage to property (3,420) and injuries (2,842), while collisions with objects resulted in the most fatalities (41). "
On a related note, bicycle-related incidents and fatalities were also up in 2020. Full story here.
"The Department of Public Works and Highways (DPWH) recently conducted an inspection of the ongoing Skyway Extension Project, and confirmed that the northbound portion of the elevated expressway will be opened in the second quarter of 2021.
"'We are targeting completion of the northbound segment second quarter of this year while the southbound segment is being fast-tracked for delivery in September as part of our goal,' said DPWH secretary Mark Villar.
"The project was set to be partially completed in December 2020 despite the COVID-19 pandemic, but a mishap back in November caused San Miguel Corporation (SMC) to make some further adjustments to its schedule. Nevertheless, it looks like we'll finally be able to see this porton of the Skyway operational soon.
"'With 61% of the project already complete, travel time from the Skyway main line toll plaza in Sucat, Parañaque, to Susana Heights in SLEX will soon be reduced by around 50%, greatly easing the traffic situation for those who are going home to the provinces,' said Villar.
"Once the entire Skyway Extension Project is complete, three northbound lanes and two southbound lanes will be added to the southern portion of the existing Skyway network. The extension is expected to easethe usual traffic buildup near the Alabang interchange of the South Luzon Expressway (SLEX), a problem that has riddled motorists for quite some time now.
"In addition, SMC estimates that this project along with the recently opened Skyway Stage 3 will reduce travel time between SLEX and the North Luzon Expressway (NLEX) to just 30 minutes."