2020. Hardly a belter of a year, eh? Back in the early summer, Germany seemed to be the only country doing anything right. Where was France? And come to think of it, where is France now? It's only been a late run from the Far East that has saved 2020 from being a total shocker.
That's right—hot hatches. Where have they all been? For months, the only news story was the Mini GP, but now look—there must be as many new ones as there are claimed vaccines. All-new Audi S3, facelifted Hyundai i30N and Honda Civic Type R, a new version of Ford's Fiesta ST, and something called a Toyota GR Yaris. Yes, 2020 is going out on a high.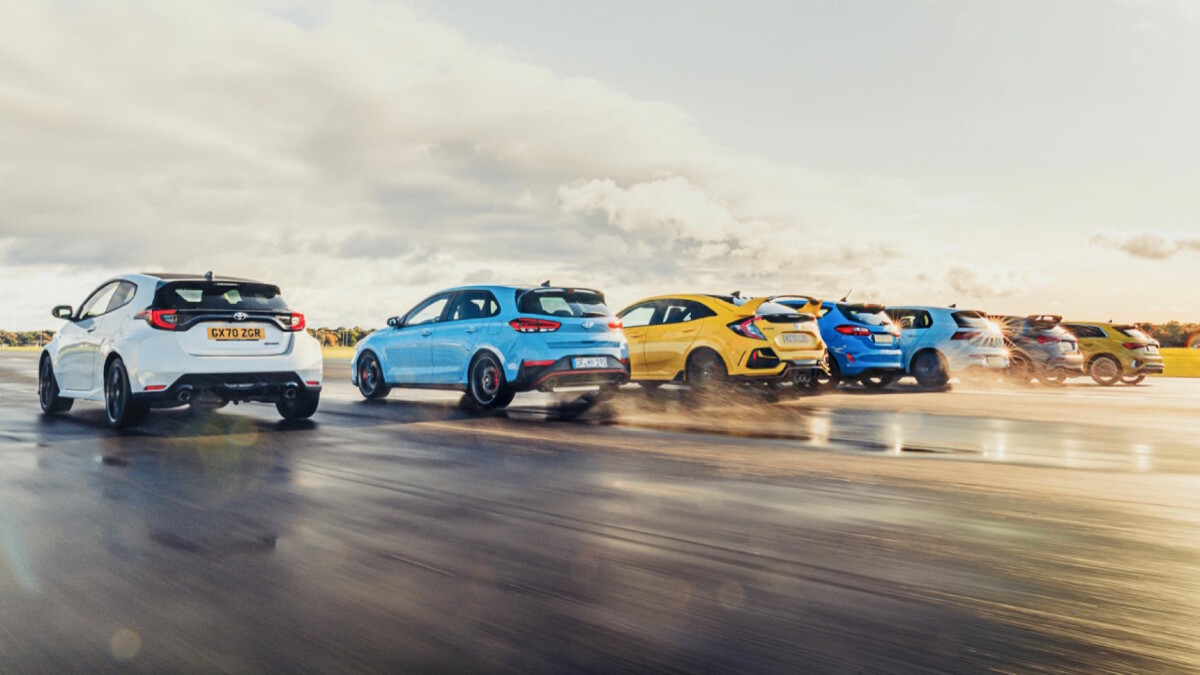 I know, the Hyundai has but an extra 5hp, the Civic a reshaped gearknob, the Fiesta Performance Edition features some new wheels and flashy suspension units, and the S3 will do the exact same job as the old one. But at least the firms care enough to update these cars. The business is there for them.
ADVERTISEMENT - CONTINUE READING BELOW ↓
But let's start with the one that emphatically isn't just an update or a facelift. Toyota has created the GR Yaris to go rallying. For it to be eligible for the World Rally Championship, 25,000 road-going versions have to be built. So, everyone else sends out their standard supermini, crosses their fingers, and hopes for the best. Because you can't compromise the rear headroom in your little runabout because some fast Finn wants a better aero package.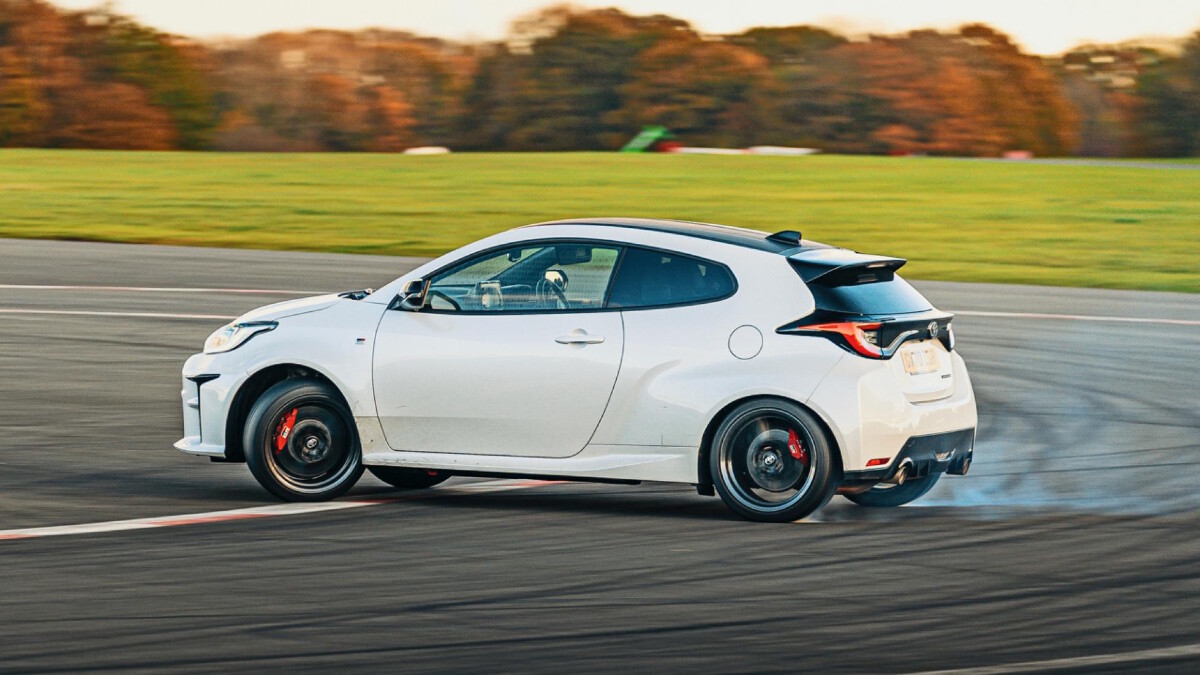 But you can, if you're clever, have very deep pockets and the passion for motorsport of Toyota boss Akio Toyoda, cast all concerns to the wind, blow your investment budget, and create something from scratch. The only standard Yaris parts carried over are the light clusters, the door mirrors, and the roof fin. Underneath is a Frankenstein's monster of a platform: front half Yaris, back half C-HR. The body panels are aluminum, saving 24kg, while a carbon-fiber roof saves another 3.5kg.
ADVERTISEMENT - CONTINUE READING BELOW ↓
Recommended Videos
Like the Fiesta ST, it uses a little three-cylinder turbo, but manages to prise an extra 60hp from it. Like the Mercedes-AMG A45 (not new in the last couple of months or even this year, but allowed back in because it says interesting things about the top end of the hot-hatch market), it's 4WD and has a computer-controlled rear differential. But that's not the version of the Yaris you want. You want the one you see here, with the Circuit Pack that has mechanical differentials front and rear, plus lighter BBS wheels, retuned suspension, Michelin Pilot 4S tires, and red brake calipers. Should be called Stage Pack.
It's unique. How long have we car enthusiasts wanted this—a small (under four meters long), lightweight (1,280kg), feisty road-going rally rep? And the best possible news is that it's utterly tremendous to drive. Yep, with the Circuit Pack, it's the same money as the Golf GTI, and even without it, more than the i30N. It's no cleaner or more economical than an Audi that's 300kg heavier and 50hp more potent. It also lacks their passenger-friendly cabins, and the cargo area is literally half the size. The compromise of the GR Yaris is already clear. Does that matter? Answer that yourself. If it does, ignore the others and head for the Civic. Giant trunk.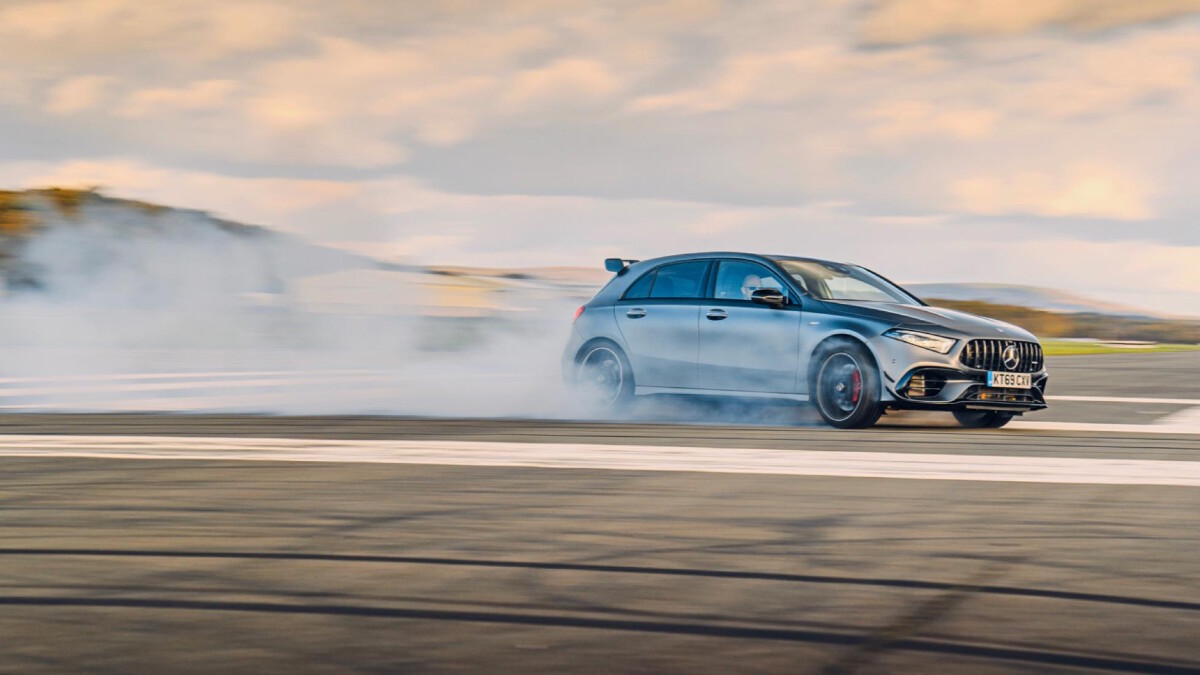 ADVERTISEMENT - CONTINUE READING BELOW ↓
But let's investigate the GR Yaris more closely by putting it up against the other 4WD cars here, the Mercedes-AMG A45 S and the Audi S3, because each of them treats its 4WD system very differently. The Merc really wants to show you what the technology is capable of, so it electronically enhances all the characteristics and ends up feeling a little artificial. Don't get me wrong—it's deeply impressive, and its fiery engine is something to behold in full flow. The hottest of hot hatches, but far from the most honest in its responses. It interprets what you want from a corner, then puts its own spin on it. Literally, if you use Drift mode.
Meanwhile, the Audi does everything in its power to convince you it's not 4WD at all. This is meek-wheel drive, the kind designed to only chip in on slippery winter roads and do so unobtrusively. There's no torque steer, little feedback; it's just rapid and efficient. A nice way of getting about.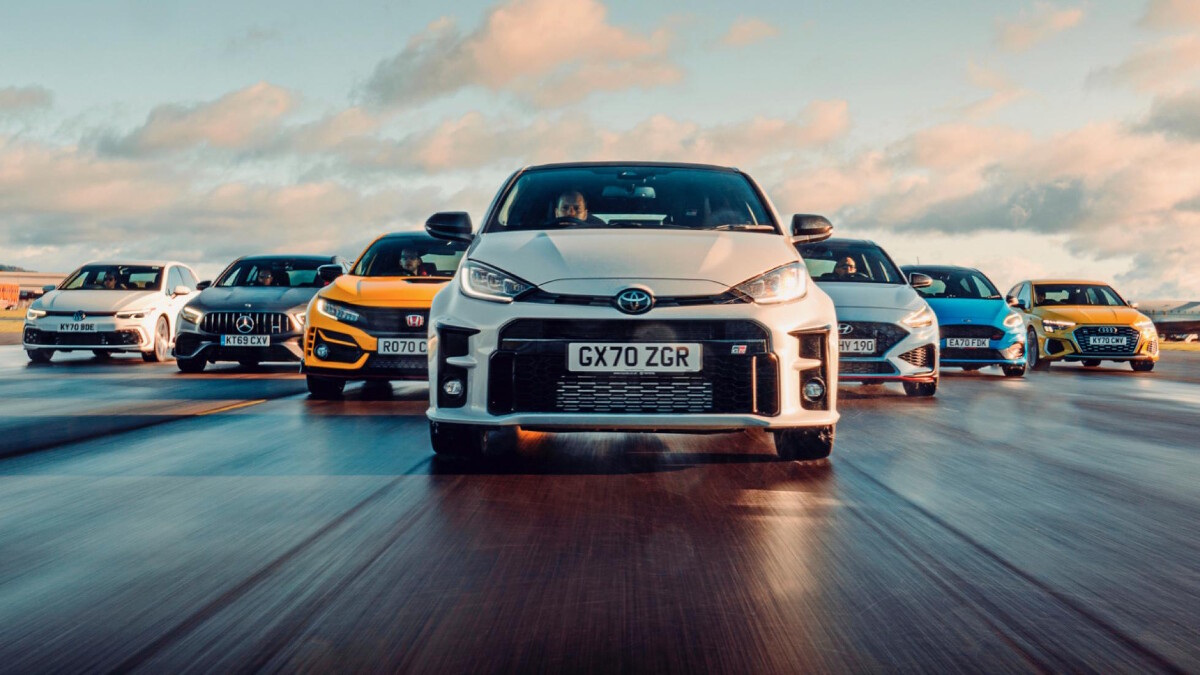 And then the Yaris. And like baby bear's porridge, it's just right. So, we'll leave Audi and Merc to squabble over the gender images of mommy and daddy bear while we admire a 4WD system that feels mechanical, responds proportionately, and does your bidding. You feel connected to it, have instant confidence in it. Leave the system alone and 60% of torque goes to the front wheels. The dial ahead of the manual gear lever—no, you can't have anything else—twists for Sport (30:70) or Track (50:50). Everyone gets excited about rear-biased Sport because of the overtures of oversteer. Yes, on track, it does. But on a greasy back road, it's Track you want, ironically enough. The Yaris, like every other car here bar the Fiesta, has a little natural understeer. More torque through the front axle helps pull it out of corners better. If you're so minded, you might want to try a bit of left-foot braking. The Yaris responds better to that than any car I've driven since a Lancer Evo VI. Coincidence? I doubt it.
Forgive me, bit of a bobble-hat moment there. Maybe do something simpler in the car. Find an icy car park and give the handbrake a yank. There is one, which is the first thing to note, but the Fiesta has one, too, and pulling that at 30kph is like tearing wet cardboard. But in the Grrr-Yaris, pulling the lever momentarily disconnects drive to the rear wheels, locking them up instantly for maximum hoon mode. Be wary of it. Given the car's short wheelbase, it snaps sideways very quickly.
ADVERTISEMENT - CONTINUE READING BELOW ↓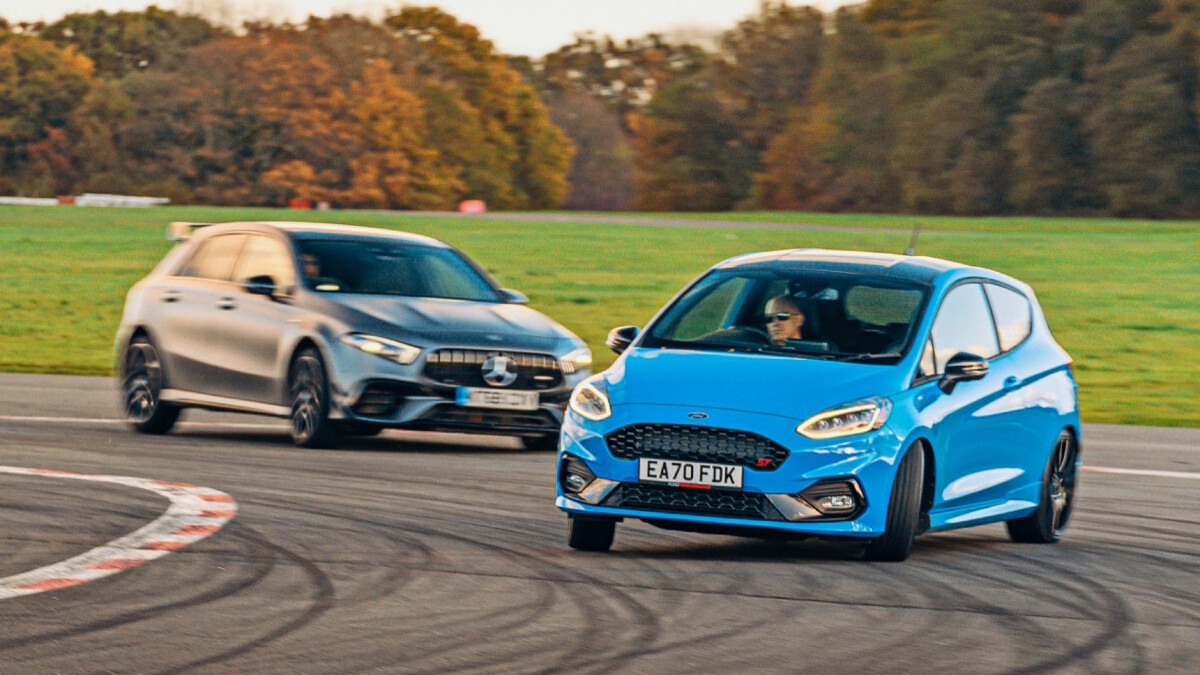 The Fiesta doesn't need a handbrake, because lifting off as you turn into a corner elicits broadly the same response. The inside rear wheel picks up, and very soon after, the back end arcs round. It's the definition of playful—more throttle adjustability and weight transfer than anything else here. And now you can see if you can make it even more of a handful—the Performance Edition comes with manually adjustable dampers to go with a small ride height drop. What a terrific car this still is. Sure, you can pick holes in it—the steering wheel is too chunky and over-assisted, the ride is firm—but it does two things exceptionally well. It loves getting into corners and it loves getting out of corners. It dives in on the brakes, feeling lively and alert, the front end is tenacious (this one has the usually optional Quaife diff as standard), and the engine is eager and peppy. It draws you into the experience immediately, which is just as well given the dowdy cabin.
Not that the others fare much better. The Hyundai still feels cheap, the VW is cleanly designed but beyond irritating to use, Audi does it better but has some surprisingly cheap plastics in obvious places. The two cabins worthy of positive comment belong to the Honda and the Merc—the Civic for how it feels, the A45 for how it looks. Especially superb at night with lit-up vents, broad screens, and lovely materials. But if you care about driving, the Civic is the one you'll settle into best. Faultless driving position, easily the best seats here, tactile controls. It's GR mostly-Yaris inside the Toyota, but feels the part because it has enough sporting touches to keep you interested and distract you from the scratchy plastics. Tall? Rear visibility is going to be an issue as the seat is mounted high.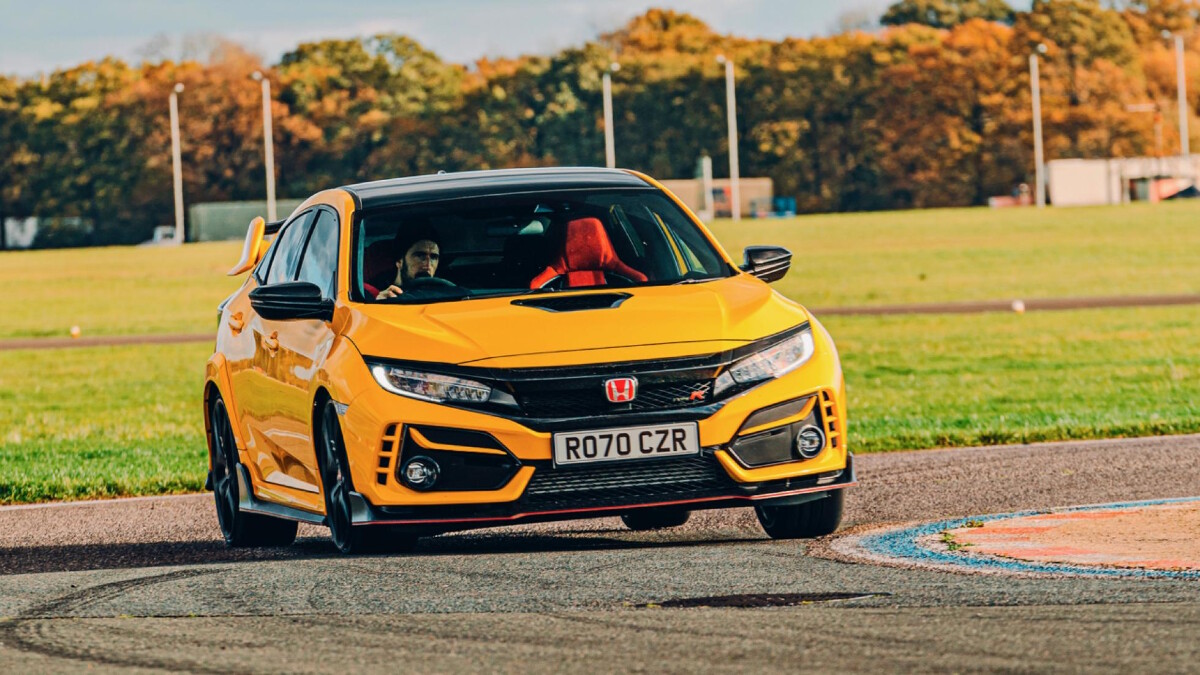 ADVERTISEMENT - CONTINUE READING BELOW ↓
It's an interesting contrast between Yaris and Civic. One has a rally background, the other racetrack. The high chair suits the Yaris, opening up the view forwards, while the Civic tucks you down, safe and snug. Both have very precise controls—firm brakes, steering with no slack, tight gearboxes. They understand that accurate communication is vital, that operation of the controls is satisfying in its own right. It's only alongside the Honda you notice deficiencies in the Yaris. Its brakes are effective but have little feel, the steering lacks natural feedback. No hot hatch does this stuff better than the Civic. It feels super professional, tightly honed, and rewarding.
You don't need this Limited Edition version that trims 47kg by chucking out the aircon, sound deadening and infotainment. In fact, the one you probably do want now is the Sport Line, which ditches the Transformer rear wing for a more stealthy approach—although it's worth bearing in mind that without that distraction you are made more aware of how unattractive the standard Civic shape is.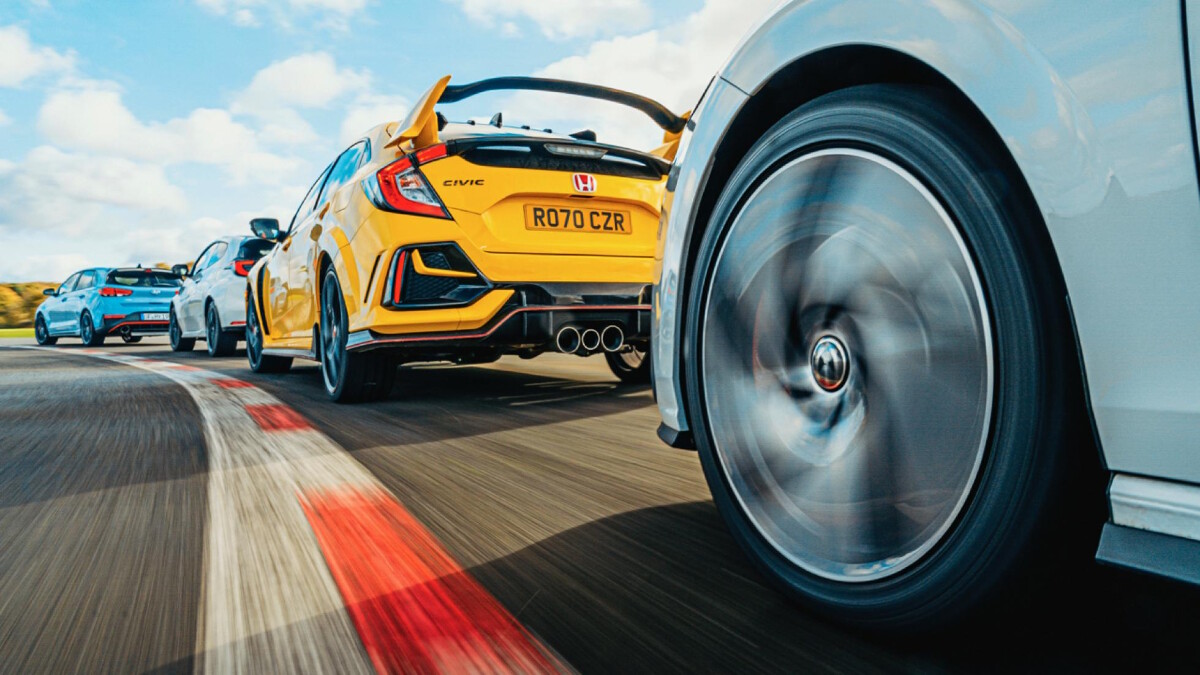 But as a thing to drive, the Civic is borderline mesmeric. There's a little bit of torque steer in slow corners, but traction is just remarkable, and through the quick stuff, the car is absolutely immaculate: clean, flat, fast, brimming with detail. The A45 might have more power, but for cornering speeds and composure, the Civic has it for breakfast. Nothing else has the control precision to match it. Because of its chassis, you tend to overlook the engine—Hondas were only any good when they were naturally aspirated, goes the thinking. Wrong. This 2.0-liter not only has minimal lag and great pickup down low, but power expands across the rev range—there's always a reason to stay with each gear. Only there's not, because what you actually want to do is use the gearbox as much as you can. There is no better manual gearshift.
The Yaris is a genuinely speedy little thing. From that little triple emerges a big (albeit artificially augmented) noise that puts you in mind of forests and warbly five-pot Audi Quattros. It's light and easy but plain low down, eager once the needle sweeps past 3,000rpm, does its best, meatiest, torquiest work from 4,000-6,000rpm, and spins higher perfectly happily. It's short-geared and responsive, and hits harder than you expect.
ADVERTISEMENT - CONTINUE READING BELOW ↓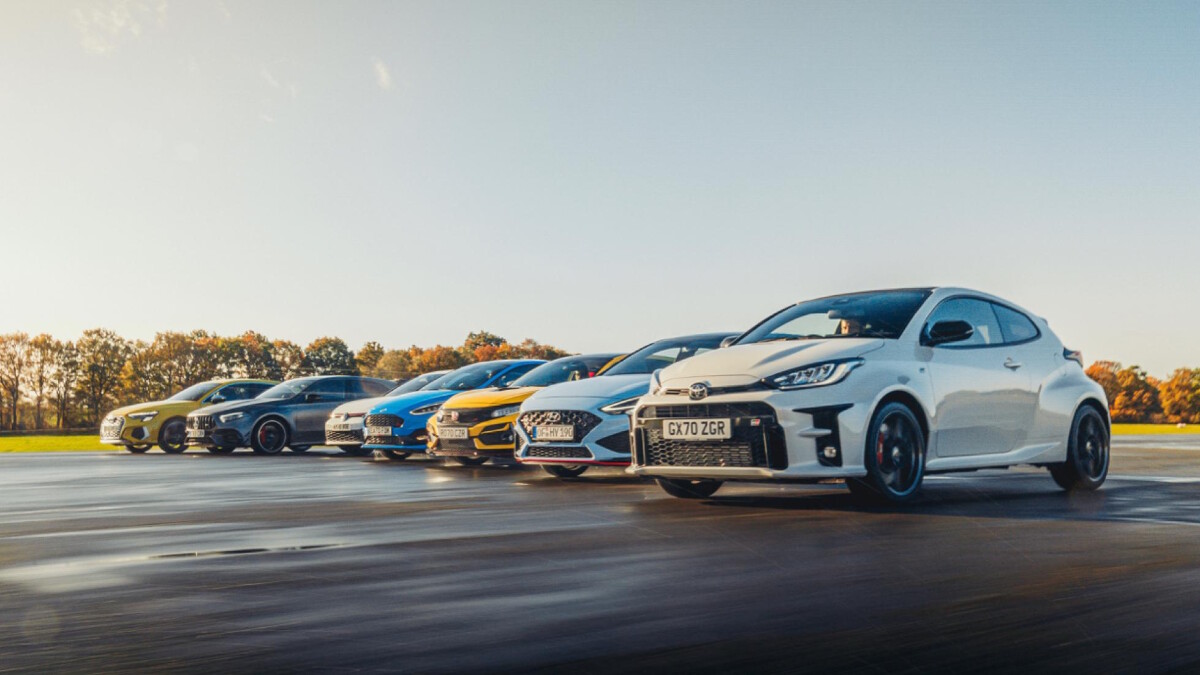 Where does this leave the newly tweaked Hyundai i30N? Lagging slightly. It's still a terrific car, but its engine is flat and ordinary in comparison, and while the new twin-clutch gearbox does a reasonable job, it doesn't make an event of changing gear. Have the manual. You'll have to do without N Grin Shift mode. You'll survive—all it does is overboost torque a fraction for 20sec. This is still a terrific car to drive, and the slight adjustments do seem to have rounded off the ride's sudden edges. It might not be as naturally talented as the Civic, nor as extroverted as the Yaris, but its reined-in character makes it great to live with.
You could say the same of the Golf GTI, of course, but given a straight choice, I'd have the i30N. You want some fun in your life and this latest GTI doesn't deliver enough of that. A Clubsport version is coming, as is an R, but the base GTI ought to be enough. Instead, it feels like a box-ticker. Everything's there apart from the magic. Still, drive it back to back with the S3 and the GTI feels that bit brighter and livelier, the damping is more interactive, there's more weight and communication in the steering. I commend Audi for the S3's improved chassis balance—it works both ends more evenly—and a less ruthless purge of the buttons means it's easier to operate on the move than the Golf.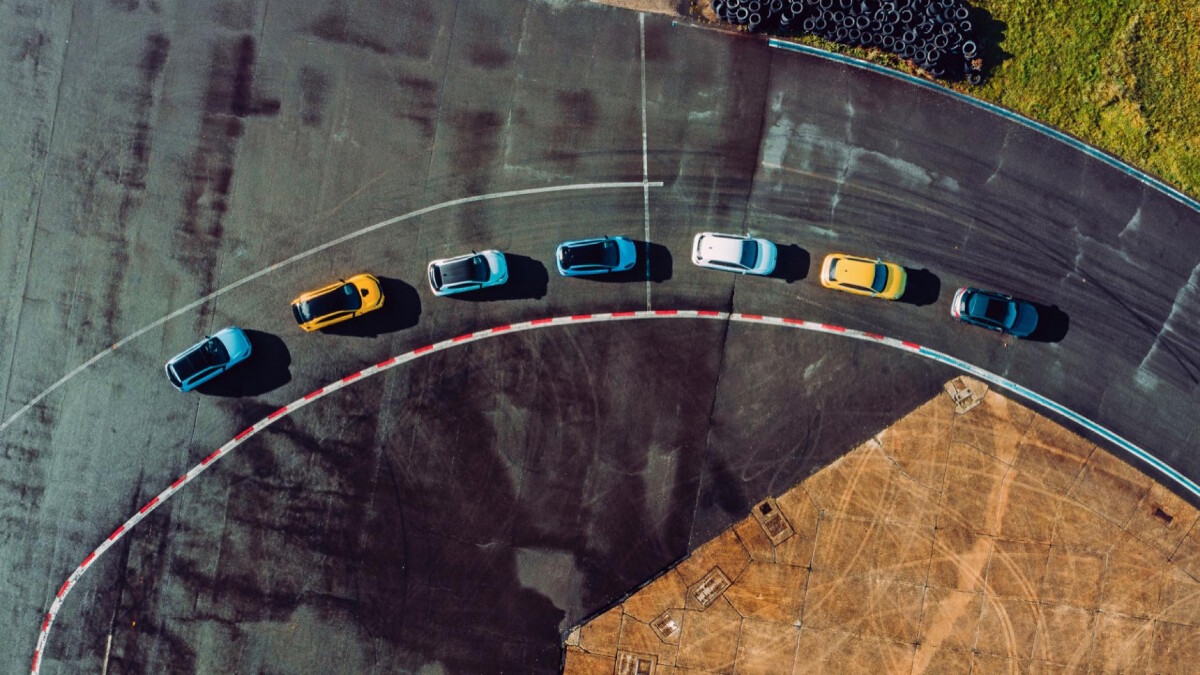 It's natural to think of the S3 as a Golf GTI with two more driven wheels and an extra 50hp. But it's so much less than that—despite the power and speed, it's actually more of a warm hatch than a hot one in a class where attitude counts for so much. It finishes last, the Golf just in front of it. Neither is engaging enough. German cars round out the bottom three. The A45 is a complex machine, but it conceals its dazzling mechanics behind a thick electrical cloak. It's too sophisticated. Then we have the Hyundai i30N. For dynamic ability, it's right up there, but it just doesn't quite have the charisma of the final three cars.
ADVERTISEMENT - CONTINUE READING BELOW ↓
Civic, Yaris, Fiesta. Choose one. You won't be disappointed. 
We've applied an order so far, let's not back down now. Third is the up-fer-it Fiesta, the tactile Civic is second, the gutsy GR Yaris is our Hot Hatch of the Year. It harks back to an era when rallying ruled the world and spawned superb road cars. Two decades on, that template is still just as relevant.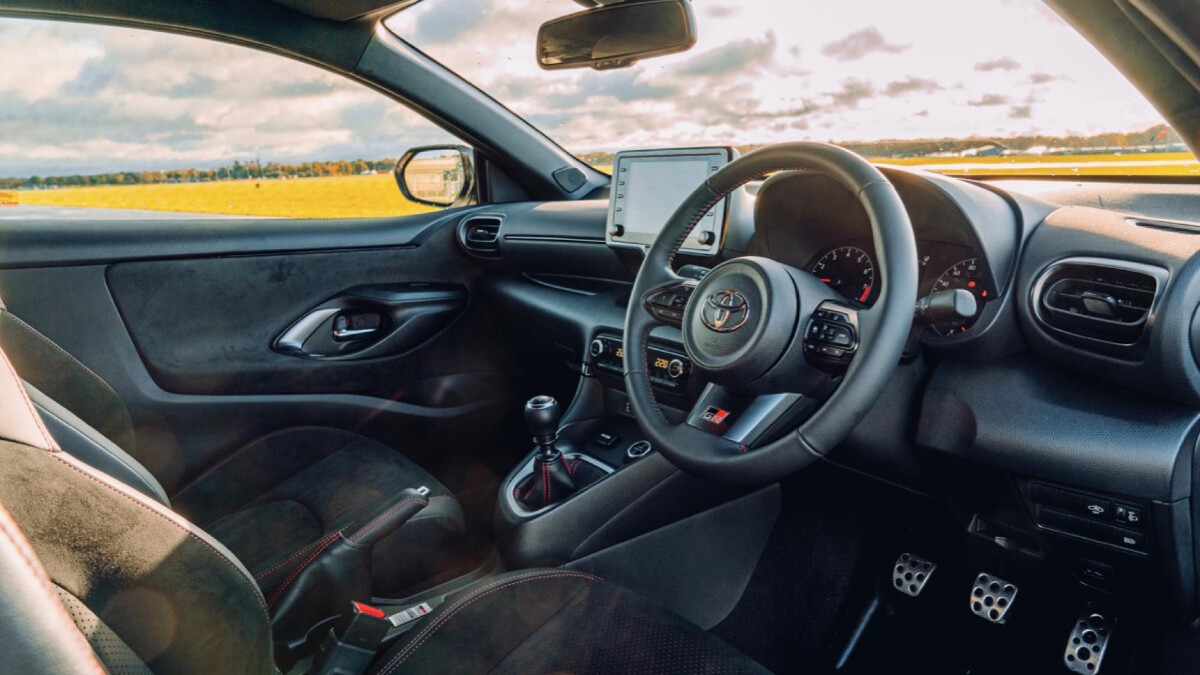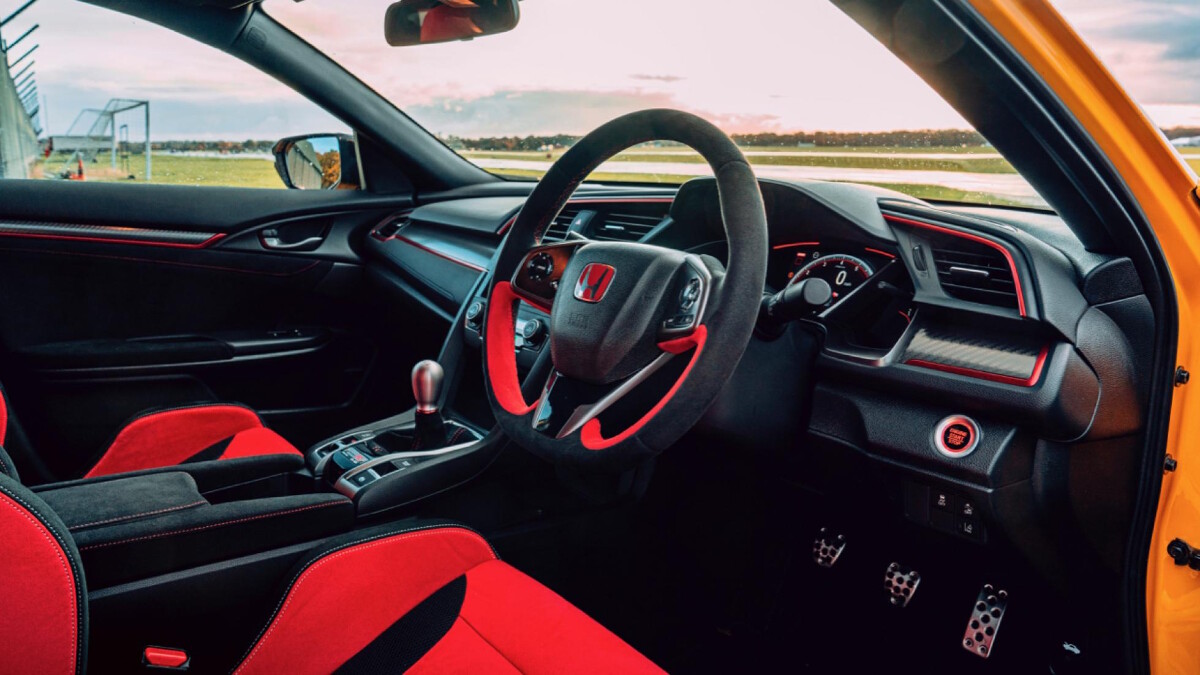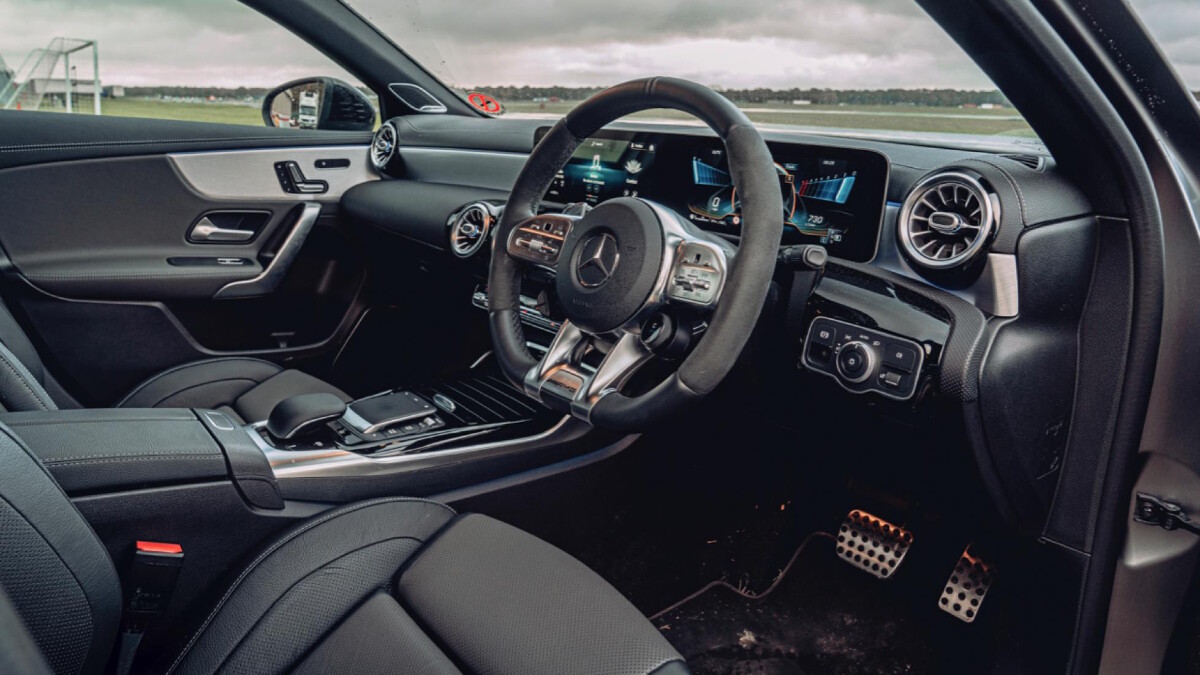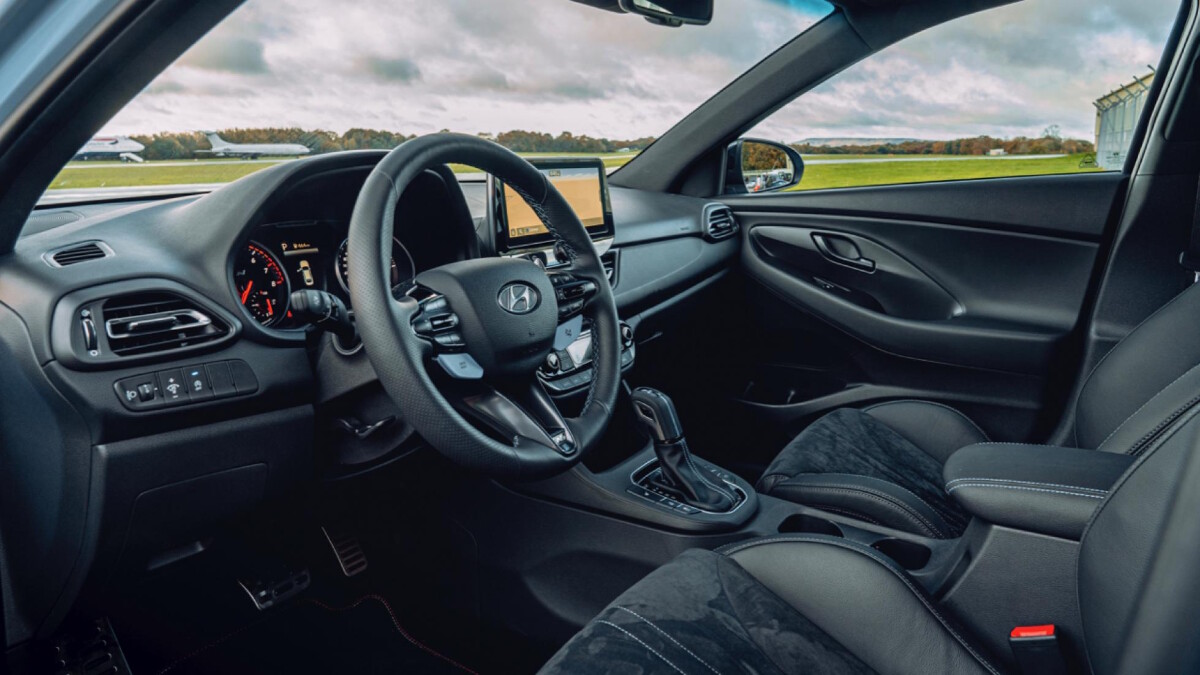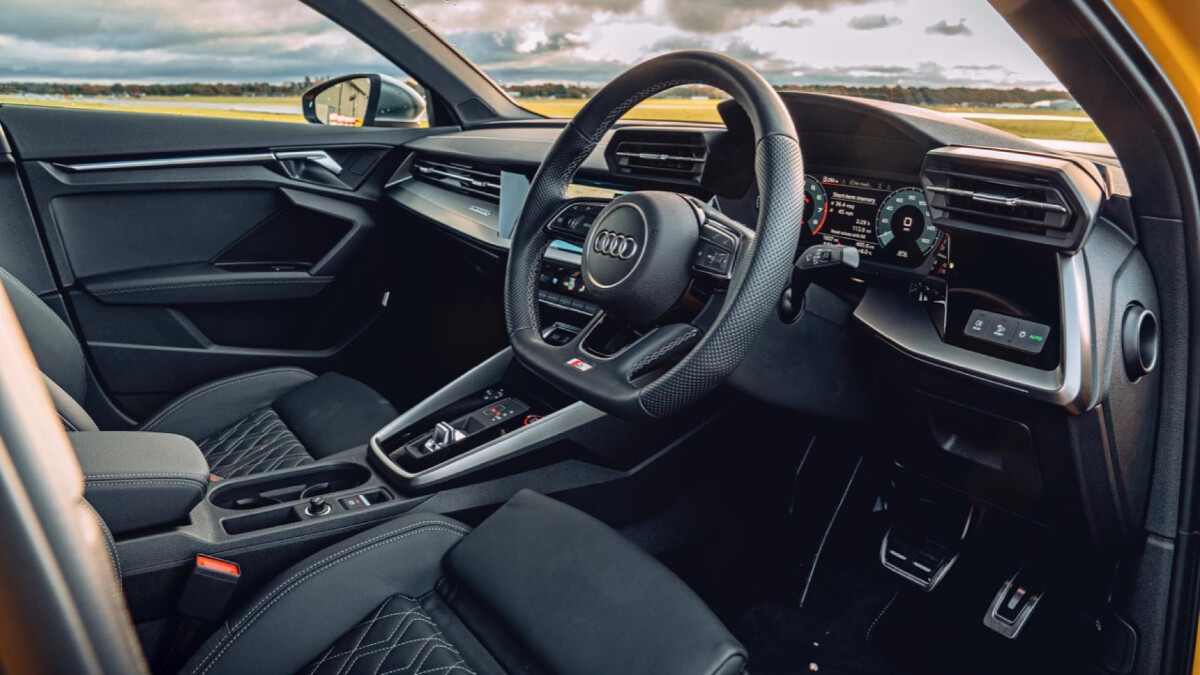 ADVERTISEMENT - CONTINUE READING BELOW ↓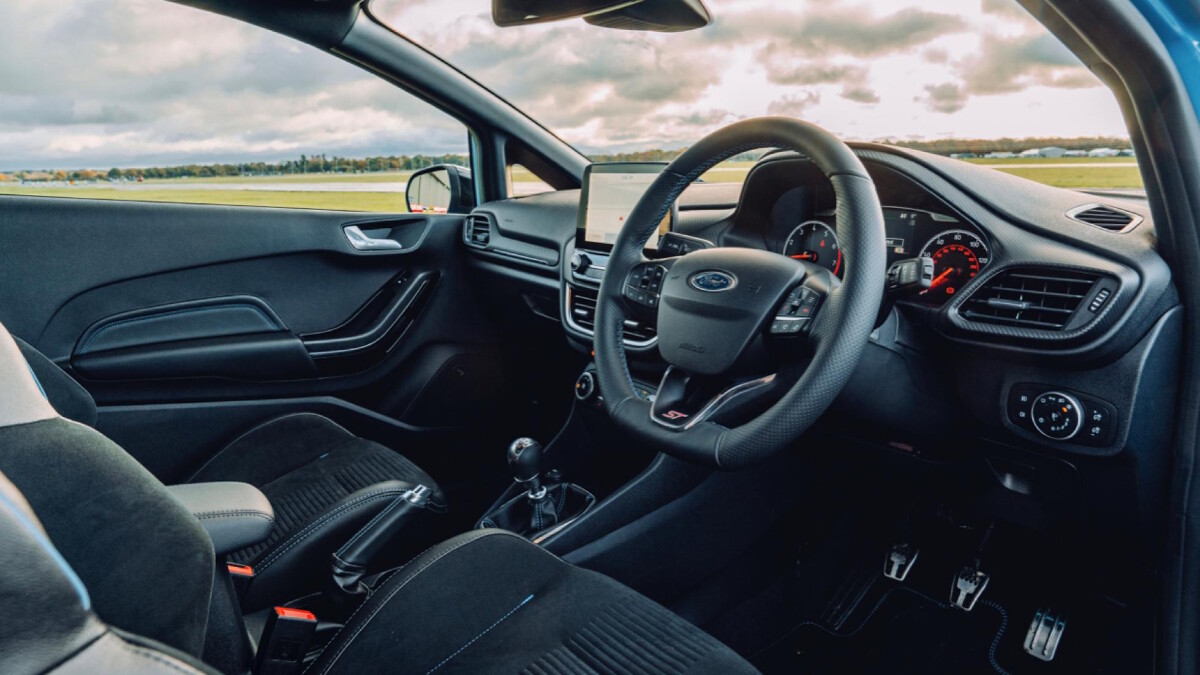 NOTE: This article first appeared on TopGear.com. Minor edits have been made.