"The goal of the 'no Beep card, no ride' policy for the EDSA Busway system was to improve the implementation of social distancing among commuters and minimize the physical exchange of money to slow down COVID-19. Neither of those two things happened at this bus stop on October 1, the policy's first day of implementation.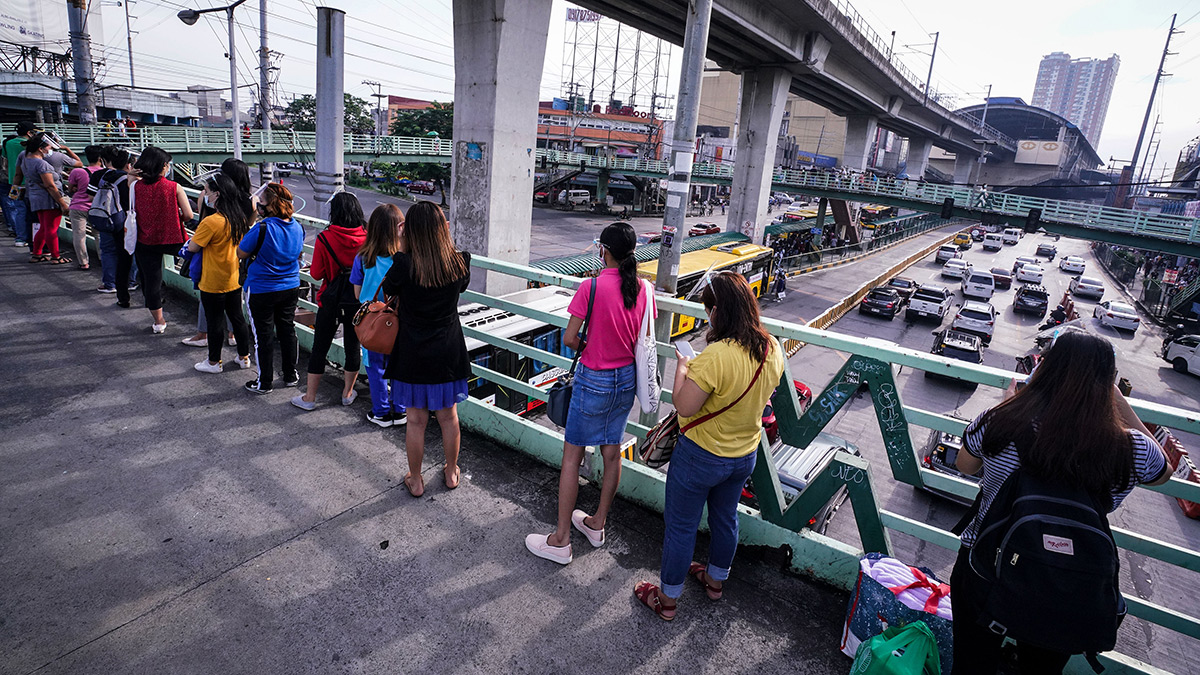 ADVERTISEMENT - CONTINUE READING BELOW ↓
"Photos taken on that day show commuters lined up close to one another while  waiting to board at an EDSA Busway stop in Muñoz, Quezon City. Some passengers were seen paying for their reloadable Beep cards with physical money, but this still translates to less physical interaction since their reloading amounts are (hopefully) still bigger than one-time fare payments.
"We reached out to the Department of Transportation (DOTr) regarding the issue and the agency said it had already reported the matter to the Inter-Agency Council for Traffic (I-ACT). The DOTr added that I-ACT personnel have already been instructed to intensify their monitoring and enforcement of social-distancing protocols.
"As for physical money being used in transactions, we expect this to become less of a thing as more and more commuters get their hands on reloadable cards. Remember: Beep cards can be loaded at select convenience stores and Bayad Centers, and the DOTr is already working on making these free of charge."
ADVERTISEMENT - CONTINUE READING BELOW ↓
Recommended Videos
"Apart from the mad rush among commuters to procure tap-to-pay cards for public transport, there seems to be another issue in this whole automated fare-collection system (AFCS) fiasco. Apparently, there are two cards available, with similar names and even colors, but for different purposes: Beep and BeepRides.
"A commuter by the name of Kristina Conti shared her experience on social media. She was surprised to find out that e-jeepneys are actually using BeepRides, a card that's different from the Beep cards being used in the EDSA Busway system.
"A BeepRides card costs P150, and comes with an initial load of P50.
"DOTr assistant secretary Goddes Libiran has made some clarifications and confirmed that these two cards are, in fact, different.
"Beep cards, as mentioned, are used in the EDSA Busway. These are also the same cards that have been used at all MRT and LRT lines for several years already. BeepRides, meanwhile, is being used by some bus and modern PUV operators, and according to Libiran, 'has totally nothing to do with Beep.'
ADVERTISEMENT - CONTINUE READING BELOW ↓
"In her statement, Libiran also mentioned that the AFCS is chosen not by the DOTr, but by the operators themselves. Also, there is no specific system is required—the important part is that a contactless payment system will be set in place. 'Kaya nga meron din pong mga PUVs na gumagamit ng GCash, Paymaya, Squidpay, QR Code, among others.'
"We don't know why on earth these two cards had to be named—and colored—so alike, but we hope these statements clear things up a bit. And since we've seen a lot of people asking questions around social media, we believe it's best if we all spread the word and help our fellow commuters out."
"In a statement released on Saturday, October 3, the DOTr called upon AFPI 'to immediately remove the payment for the card, on top of the fare load, otherwise it will suspend the use of the automatic fare-collection system in the EDSA Busway.'
ADVERTISEMENT - CONTINUE READING BELOW ↓
"'We are asking AFPI to remove the service fee and other charges that total a significant amount for the cost of the card, the payment of which has been an additional burden for passengers,' the statement reads. 'These are the ordinary commuters who are still reeling from the impact of the COVID-19 and the strictly enforced community quarantines in their livelihood. Thus, they should be spared from this additional burden.
"'We call on the AFPI to view the card cost fee as part of their corporate social responsibility (CSR) to help its clients endure the result of the pandemic.'
The statement makes no mention of a possible reimbursement for commuters who had already paid for their Beep cards, whether the AFPI accedes to the DOTr's request or is suspended as a service provider for the EDSA Busway. Beep cards are also used in MRT and LRT lines, as well as select point-to-point buses.
ADVERTISEMENT - CONTINUE READING BELOW ↓
"In the same statement, the DOTr said that the Land Transportation Franchising and Regulatory Board (LTFRB) will be issuing a memorandum circular directing public utility vehicle (PUV) operators from passing on the cost of adopting cashless payment systems and tap-to-pay cards to commuters.
"The DOTr stressed that 'there are other [automated fare-collection system] providers and other modes of cashless transactions that PUV operators may tap.'"
"Last week, the LTFRB approved the resumption of provincial bus operations during general community quarantine and modified general community quarantine under Memorandum Circular 2020-051. Operations began on Wednesday September 30.
"The public utility buses, however, must ply modified routes and must of course be compliant with the government's safety protocols. The LTFRB has also clarified that only buses with valid and existing Certificates of Public Convenience or Applications for Extension of Validity are allowed to operate.
ADVERTISEMENT - CONTINUE READING BELOW ↓
"In addition, operators must secure a copy of a QR code from the agency. They must also install a global navigation satellite system in their bus units for monitoring purposes.
"The 12 bus routes only cover Regions III and IV-A:
San Fernando, Pampanga – Araneta Center, Cubao, Quezon City
Batangas City, Batangas - Parañaque Integrated Terminal Exchange (PITX)
Lemery, Batangas – PITX
Lipa City, Batangas – PITX
Nasugbu, Batangas – PITX
Indang, Cavite – PITX
Mendez, Cavite – PITX
Tagaytay City, Cavite – PITX
Ternate, Cavite – PITX
Calamba City, Laguna – PITX
Siniloan, Laguna – PITX
Sta. Cruz, Laguna – PITX
"Loading and unloading outside of the designated stopovers and terminals along these new routes is strictly prohibited. Passengers must bring a valid travel pass and ID, as well as other documents needed by the Inter-Agency Task Force for the Management of Emerging Infectious Diseases for them to be allowed on board. They must also bring written consent letters stating that they are willing to undergo COVID-19 testing and be placed under quarantine when the need arises."
ADVERTISEMENT - CONTINUE READING BELOW ↓
"The head of Joint Task Force COVID Shield, Lt. Gen. Guillermo Eleazar, told Dobol B sa News TV on Wednesday, September 30, that workers and authorized persons outside residence (APOR) don't need to secure a travel authority to take provincial bus trips.
"However, as Metro Manila is still under general community quarantine, those not authorized to leave their homes must still secure a travel pass from authorities if they're planning to move between the capital region and other provinces, Eleazar clarified.
"Though workers and authorized persons are allowed to ride buses with passes, Eleazar said local government units (LGU) have the final say if they will require travel authority for their area of jurisdiction.
"In a memorandum circular, the LTFRB said passengers must pre-book rides and test negative for COVID-19 at least 48 hours before their scheduled trip. Those looking to ride a provincial bus also have to secure a travel pass or authority from their respective LGU. Passengers with incomplete requirements could be denied boarding."
ADVERTISEMENT - CONTINUE READING BELOW ↓
"Google is bringing an update to Google Maps that will let users know how many COVID-19 cases are in an area. The update hasn't reached the Philippines yet, but Google says it's already being rolled out on smartphones across the world.
"Once it's available on your phone, you can simply tap on the layer button on your screen to select 'COVID-19 info.' Here you'll find a seven-day average of cases per 100,000 people in an area on your map, and it will show if the virus is trending upwards or downwards in certain places. The layer will feature color-coding to make reading information and showing density easy.
"Google says that the COVID-19 information layer uses data collected from organizations like Johns Hopkins University, the New York Times, the World Health Organization (WHO), government health departments, and hospitals. It added that provincial and city-level data will be shown where available."
ADVERTISEMENT - CONTINUE READING BELOW ↓
"The Land Transportation Office has further extended the validity of registration of vehicles with plate numbers ending in 6, 7, 8, 9, or 0 'to avoid congestion in all LTO offices, ensure orderly processing of transactions, and strictly implement the observance of social distancing and other health and sanitation protocols that will protect the health and safety of [the agency's] employees and the transacting public.'
"Check out the all-important dates below—you may renew your vehicle's registration until then without penalty and surcharge."
Plate numbers ending in 6, 7, or 8 – October 30, 2020
Plate numbers ending in 9 or 0 – December 31, 2020
"The Metro Manila Development Authority (MMDA) has caught thousands of erring motorists since it rolled out its no-contact apprehension system a while back. But as effective as it is, the system isn't flawless.
ADVERTISEMENT - CONTINUE READING BELOW ↓
"A certain anomaly has recently surfaced on social media. Saab Magalona-Bacarro, daughter of the late rapper Francis Magalona, shared on Twitter that she is currently having trouble registering her car with the LTO because of a traffic violation from September 2018.
"That may not seem unusual, except for the fact that the car had actually been registered long after the supposed incident took place. Magalona said that she was able to renew her car's registration last year without any issues.
"The violation is dated September 2018, and the car's OR for its last registration is dated September 2019. A netizen responded saying that he had the same experience, and he was told by LTO personnel that this was due to backlogs.
"If it was because a backlog, whose exactly was it? But if this violation was, in fact, caught via the no-contact apprehension system, then Magalona should have received a letter from the MMDA similar to what previously happened with Matteo Gudicelli. As of this writing, we still have no updates.
ADVERTISEMENT - CONTINUE READING BELOW ↓
"Robinsons Malls said on September 29 that select branches will serve as a one-stop-shop for RFID installation and reloading to help motorists adapt to the shift to cashless transactions.
"The country's expressways are moving to contactless payments to stop the spread of COVID-19. The move to full RFID is expected to finish by November, and motorists have begun installing RFID stickers on their windshields and headlights.
"Robinsons Malls has partnered with Easytrip, the provider of RFID stickers that can be used in NLEX, SCTEX, CAVITEX, CALAX, and C5 Link.
"For the the schedule provided by Robinsons Malls for the sticker installation, click here."
"If you now use a bicycle to get around and your daily route takes you through Quezon City, listen up: The local government has approved a new ordinance to strictly enforce the mandatory use of helmets for cyclists.
ADVERTISEMENT - CONTINUE READING BELOW ↓
"Ordinance No. SP-2942 sets the following penalties for cyclists who are caught not wearing a helmet: first offense, P1,000; second offense, P3,000; and third offense, P5,000."
"'Ngayong bahagi na ng new normal ang pagbibisikleta, nais nating gawing mas ligtas ang aktibidad na ito para sa mga dumadaan sa ating lungsod," said Quezon City mayor Joy Belmonte. "Makatutulong ang pagsusuot ng helmet upang maging maayos ang ating pagbiyahe at para ligtas tayong makarating sa ating pupuntahan.'
"The local government gave away free helmets on Friday, October 2, ahead of the implementation of an ordinance penalizing cyclists who do not wear one."
"Regulators said on Thursday, October 1, that more UV Express routes are now allowed to reopen as public transportation gradually increases capacity during the general community quarantine.
"According to a memo adopted on September 11, and effective immediately after publication in a newspaper, the 17 additional routes are:"
ADVERTISEMENT - CONTINUE READING BELOW ↓
N09 Malabon–Cubao
N10 Marikina River Bank–Robinsons Galleria
N11 Market Market–Pasig via San Joaquin
N12 Market Market–Rosario via C5
N13 Mindanao Avenue/Tandang Sora–EDSA MRT (CIT)
N14 Palar–SM Makati
N15 Karuhatan–North Road Rail Station Terminal (NRRS) (Trinoma)
N16 San Bartolome–MRT (North Ave)
N17 Sto Nino (Marikina)–Ayala
N18 Sto Nino (Marikina)–Ortigas Center
N19 Pasig–Ayala Center
N20 Pasig (Santolan)–SM Megamall via Robinson
N21 Pasig–SM Megamall via Robinsons Galleria
N22 Pateros–TM Kalaw (Masagana Term)
N23 Pembo (Staff House)–Ayala
N24 Cubao–Buendia
C52 Cubao–Montalban Central Terminal
"The Commission on Audit (COA) has released the annual audit report on the MMDA, and it appears it has found several of the MMDA's deficiencies for CY2019.
"According to the report released on September 30, 2020, the MMDA failed to register 399 out of 531 (75.14%) total vehicles with the LTO last year. This tally includes motorcycles, service vehicles, and trucks.
ADVERTISEMENT - CONTINUE READING BELOW ↓
"The MMDA's Transport Division (TD), which is responsible for registering all vehicles owned by the agency, cited the failure to pass the LTO inspection as one of the biggest reasons the majority of the vehicles were left unregistered. It also mentioned that the repairs for these unregistered vehicles took time because of the slow processing of purchase requests. As for the other vehicles, those simply lacked documents required for registration.
"The COA also noted that six vehicles owned by the MMDA were still registered under the names of their previous owners, and the years of acquisition for these vehicles date as far back as 1989. The report stated, too, that in CY2019, the MMDA had incurred unnecessary expenses amounting to P101,237.06 for penalties relating to motor vehicle registration.
The COA's recommendation reads: 'As one of the Implementing Agency for Traffic Enforcement, MMDA should act as a role model for the public and to follow strictly with rules and regulations prescribed by LTO for motor vehicle renewal/registration.'
ADVERTISEMENT - CONTINUE READING BELOW ↓
"In response to all these, the MMDA has agreed to accomplish the registration of all its vehicles, as well as handle the transfer of ownership as necessary. It will also ensure that moving forward, it will renew the registration of its vehicles promptly so as to avoid any penalties. In addition, it will also sanction those who fail to coordinate with the TD for the registration of serviceable vehicles."