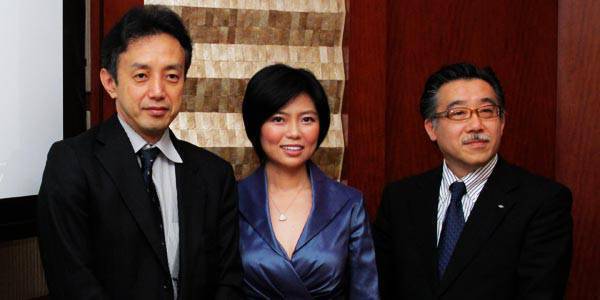 In the morning before the big launch night for the second-generation Nissan Murano, Universal Motors Corporation senior vice president Elizabeth Lee was in confident fighting form, taking swings left and right at her crossover's perceived competition. UMC, the official distributor of Nissan commercial vehicles in the country (Nissan passenger cars are distributed by Nissan Motor Philippines), is taking over the Murano nameplate after NMPI marketed and sold the first-generation model.
In an intimate brunch interview with a select group of journalists in Makati, Lee was asked which SUVs the Murano is directly competing with, when somebody made the mistake of mentioning the Mazda CX-9. "No, the new Murano is not competing with the CX-9," answered Lee. "It's not premium enough. The real rival of the Murano is the Lexus RX."
Continue reading below ↓
Recommended Videos
Then someone pointed out that the CX-9--while some 300mm longer than the previous Murano--used to be regularly pitted against the Nissan crossover in comparative tests. "That was before," Lee countered. "It's different now. The new Murano is so much better and has a more premium feel to it."
Perhaps Lee--who also serves as president of the Chamber of Automotive Manufacturers of the Philippines--dissed the CX-9 to justify the new Murano's P3.1 million price tag, a huge jump from the old model's P2.68 million sticker price. For the record, the CX-9 costs P2.9 million, while the Lexus RX (which Lee insists is the more appropriate challenger to the new Murano) is priced at P4.2 million.
The Mazda CX-9 was not the only SUV at the receiving end of Lee's verbal jabs. When describing the new Murano's cabin, she used the Porsche Cayenne as a portly punching bag. "Take the cockpit of the Cayenne," she said. "Then remove the Porsche badge from it. It's boring."
Asked what specific category the new Murano belongs to, Lee answered, "premium crossovers." Egged to give a projection as to how huge this segment might be this year, she admitted that the category is not that big, especially since the "bottom vehicles in this segment, like the Volvo XC60," are still pretty expensive. Apparently, compared to the new Murano, the XC60--whose cheapest variant costs almost P3.5 million--is a bottom-dweller.
And then Lee quickly realized the implication of her use of the word "bottom" (and probably also the fact that Volvo vehicles are distributed by UMC affiliate Viking Cars). "Wait, I didn't mean bottom as in 'bottom'," she explained.
"Yes, you meant 'affordable'," this writer volunteered, winking at colleagues.
(In photo, from left: Nissan Motor Ltd. chief product specialist Youichi Iwamoto, Universal Motors Philippines executive vice president Elizabeth Lee, and Nissan Motor Ltd. chief product designer Kinishi Saitou.)